Chapter 7
Brooklands and the Court Circular
Until the opening of the official London Season in April 1928 Eddie, George and Margaret spent some time settling in and exploring London. Eddie's innate sense of adventure sent him to less frequented galleries and pockets of arcane even dissolute interest. After piano recitals he was fond of walking off his nervous tension alone. Prone to 'nerves' he had a chemist in St James's make up a concoction which was intended to diminish stage fright. He remained prey to debilitating self-consciousness throughout his concert career, although this never seemed to be evident in his extraordinarily charming and energetic disposition on the concert platform.
Although not interested in playing jazz piano, his love of parties meant he could not resist dropping in for late-night cocktails at fashionable smoky haunts in the West End such as the Embassy Club in Bond Street or the Kit-Kat Club in the Haymarket.
Being young and strikingly handsome, he was often terribly bored by the society of the ancient dowagers and duchesses who guaranteed his livelihood. Certainly he was never short of young female admirers as dancing partners, but unfortunately the 'young things' had no interest in recitals of serious classical music and soon drifted off. He occasionally drove the Alvis down to Maidenhead at speed for a riotous evening at Murray's, a 'rather spicy club' owned by the dubious Jack May. Cocaine was available there but Eddie's thin wallet could not cope with such expensive stimuli despite its attractions.
The temperament of an artist often contains irreconcilable elements which energize his art. Eddie was no exception to this in his attraction to both the respectable life of the Old Guard lounging in their Mayfair salons and the 'low life' of Soho and bohemia. He became particularly fond of the coffee-stalls that were set up on street corners around Piccadilly Circus. On cold foggy evenings they provided hot coffee, tea, warm snacks and sizzling sausages.
These places were often frequented by party-goers in need of fuel in the small hours as they drifted home the worse for wear – a man in silk topper and crumpled white tie, a girl in short dress with shingled hair smoking a cigarette, easing her feet from tight evening shoes, sundry late night workers and then Eddie.
The increasingly rare Hansom cabs he loved still plied the streets of London. Occasionally George and Margaret would leave him on his own in the fog and take a motor taxi home to Maida Vale. Eddie had a fertile romantic imagination and would dream of historical scenes where he would shine like a character in a Balzac novel after playing for the aristocracy in a sumptuous drawing room in Mayfair. The steaming horse clip-clopped along Park Lane, through the deserted streets of Marylebone, past the ghostly white Nash terraces fringing Regent's Park, an occasional window golden lit, home to Randolph Terrace.
* * *
The Antipodean trio launched themselves into the 1928 London Season with a vengeance. In May, despite the atrocious weather with hail as well as rain, Margaret insisted on them going to the Chelsea Flower Show. Eddie, who had a particular love of flowers (he sent them regularly to all his dowagers and duchesses), was overwhelmed by the displays.
Also in May, but travelling on his own, he indulged his 'secret vice' and caught the newly electrified Southern Railway train from Waterloo to Brooklands to watch the Essex Motor Club Six-Hour Endurance Race which included factory teams from Alfa Romeo and Bentley.
He found the cars becoming airborne over the rough concrete of the member's banking an awe-inspiring sight. The Bentley driven by Tim Birkin, one of the glamorous and daring 'Bentley Boys', covered the greatest distance (considered an important parameter in those days, given the general unreliability of the machines).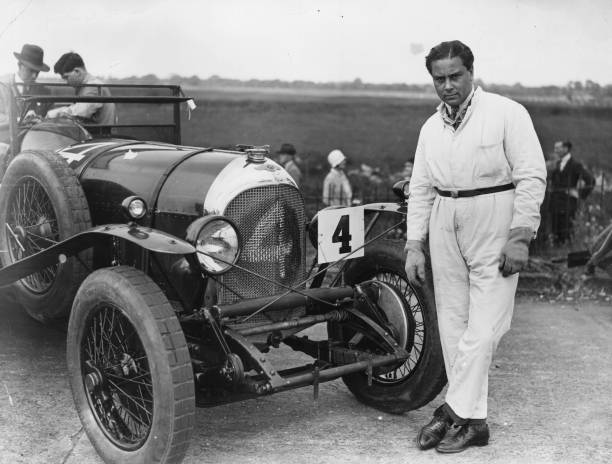 An extraordinary British Pathé newsreel of the Essex MC 6 Hours Endurance Race at Brooklands on May 12, 1928 :
In June they played and sang for Lady Jellicoe at a party at their grand residence at 80, Portland Place. Florence Gwendoline Jellicoe (née Cayzer) was the wife of the Admiral of the Fleet John Rushworth Jellicoe, 1st Earl Jellicoe, who commanded the Grand Fleet at the Battle of Jutland in the Great War.*
Later in the month the boys donned morning suits and Margaret a fetching cloche hat and a dress with a short hem for Day One of Royal Ascot when the legendary Brown Jack won the Ascot Stakes.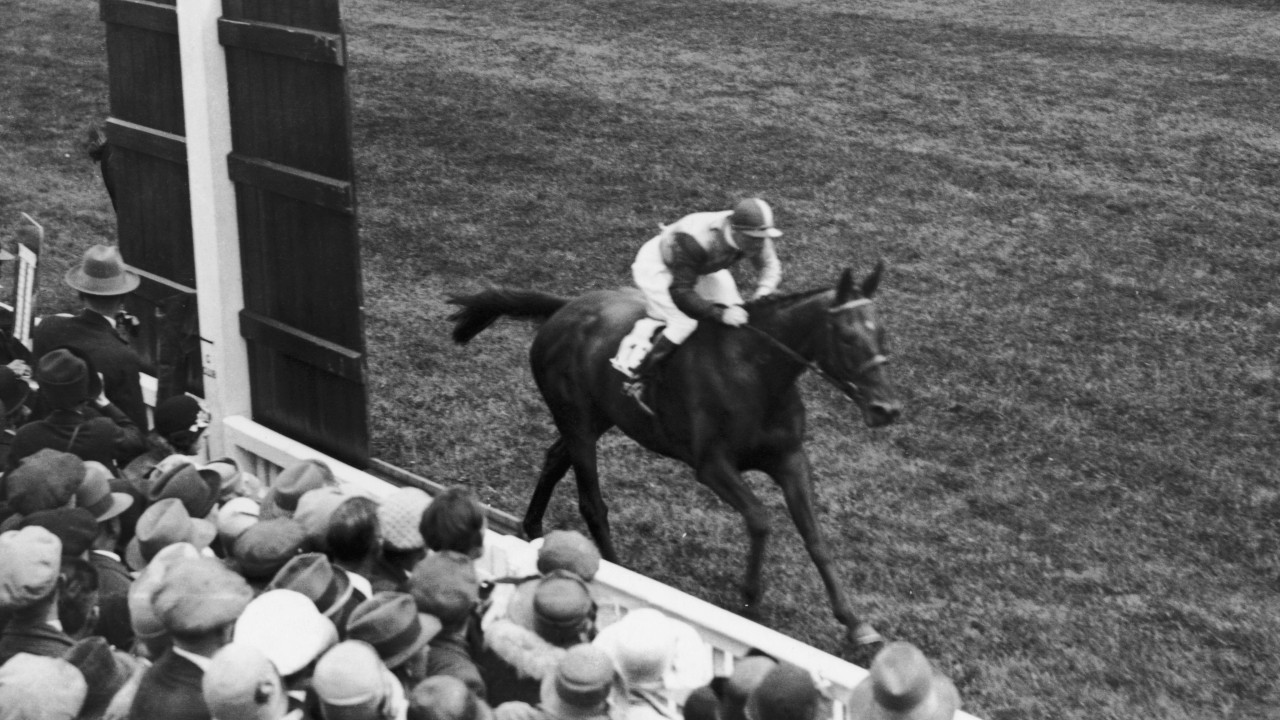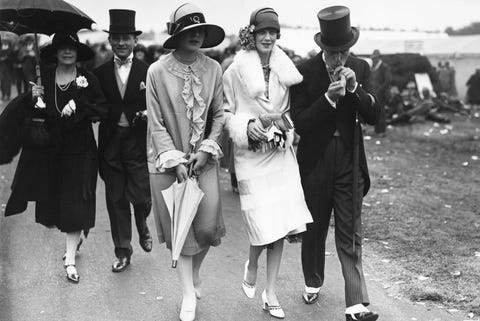 One of the highest points of the Season and Ascot Week was an invitation to play 'An Hour of Music' at a garden party in the late afternoon of 14 June at No. 5 Carlton Gardens Pall Mall in the presence of HRH Princess Beatrice.†
The Princess had been the favourite daughter of Queen Victoria. After the death of Prince Albert, when Beatrice was only four, the Queen became claustrophobically possessive of her youngest daughter, even after she married the handsome and dashing Prince Henry of Battenberg.‡ Later she became the Queen's personal secretary and spent some thirty years editing Victoria's personal journals. Beatrice was an accomplished dancer, artist, photographer and actress. Passionate about music, she played the piano to an exceptional standard and was a perceptive and critical judge of pianists. She patronised many of Eddie's recitals.
The house in Carlton Gardens was 'lent' by Mrs Alfred C. Bossom who had only recently taken it over.§ Preceding the concert she gave a 'garden tea' at five o'clock for all ticket holders. However the increasingly frail Princess Beatrice was ill and was unable to attend. This greatly disappointed the flock of elderly female aristocracy who were becoming Eddie and George's most loyal and enthusiastic patrons. Lady Stradbroke and Lady Helena Rous were also in attendance. The Princess herself was particularly downcast. As she was feeling much improved the following day, she summoned them to Kensington Palace to play a special impromptu concert.
*Admiral of the Fleet John Rushworth Jellicoe, 1st Earl Jellicoe (1859–1935). His deploy- ment of the fleet at Jutland remains controversial. Churchill described Jellicoe later as 'the only man on either side who could lose the war in an afternoon'.
† HRH Princess Beatrice of Battenberg (1857–1944) was the fifth daughter and youngest child of Queen Victoria and Prince Albert.
‡ Prince Henry of Battenberg (1858–96) yearned to escape the confinement and restrictions of the court for a life of military adventure. Much against the wishes of Queen Victoria, he campaigned in the Anglo–Ashanti War in West Africa and died of malaria in 1896 aboard the cruiser HMS Blonde stationed off the coast of Sierra Leone. Princess Beatrice was devastated by his death and as a widow once again became Queen Victoria's 'rock' and emotional support.
§ Yet another American hostess, Emily Bossom (née Bayne), was the daughter of the New York City banker Samuel Bayne. She married Alfred Bossom (1881–1965) in 1910. He was a highly successful English architect who made his fortune designing skyscrapers in Texas. He designed both temple-like and high-rise structures. Curiously he also invented a device to prevent people from suffocating if they accidentally got locked in a bank vault. He returned to England in 1926.
Country house engagements seemed to flower profusely. Classical recitals in London concert halls were not generally well patronised at the time except for those by the decidedly famous, say the violinist of genius Fritz Kreisler. Conservative audiences preferred the 'old composers' Beethoven, Brahms or Schumann. This was evidenced by a cold reception given to Alfred Cortot in London performing modern compositions by Stravinsky and Ravel until enthusiasm erupted during the Chopin section of his programme. In early July Lady Pigott-Brown invited them to perform at Broome Hall in Surrey,* followed by a glorious 'Saturday-to-Monday' at Bawdsey Manor in Suffolk invited by the Hon. Lady Quilter.
Later that week they loaded up the Alvis with exotic provisions from Fortnum & Mason and drove to Henley for a rare brilliantly sunny day at the Royal Regatta. It was the first year of qualifying races. They had a picnic on the grass by the river. Houseboats were ablaze with scarlet geraniums and pink hydrangeas. On the lawns of the riverside clubs and houses girls in floral muslins reclined in deck chairs.
'The Trio' were guests of one of the members of the exclusive Leander Club situated on the right bank just below the Henley Bridge.† Eddie was tremendously amused by the pink hippo, the club's symbol.
*Lady Pigott-Browne (1886–1964, née Edith Ivy Piggott), eldest daughter and co-heir of Admiral William Harvey Pigott, married Captain Gordon Hargreaves Brown of the Cold- stream Guards who was reported missing at Ypres October 1914. Late Victorian Broome Hall was once owned by the roguish actor Oliver Reed. The film director Ken Russell set many scenes from D.H. Lawrence's Women in Love at Broome Hall.
† Leander Club is said to have been founded in 1818 and is the third oldest and most prestigious rowing club in the world.
This rowing acquaintance enabled them to gain access to the exclusive Stewards Enclosure with its Pimm's, panamas, boaters and school blazers, deckchairs and brightly coloured Japanese parasols almost hiding the spectator boats. Matters on the river were far less controlled than today and in his journal Eddie speaks of jostling, cheering and jovial high-jinks, lounging lethargically, sitting or even standing at climatic moments in comfortably appointed punts. These floated in packed clumps beside the course while the rowers raced by in close proximity to the excited waterborne spectators. Above the carnival atmosphere drifted colourful flights of balloons. It was one of the most successful meetings for years.
Towards the end of July Eddie was invited by the Lord Chamberlain to the Afternoon Party at Buckingham Palace and on this occasion 'caught the eye of the Queen' as she wandered among her more distinguished guests. She asked him how his musical career was progressing in London and tactfully encouraged him to 'continue practising'.
Eddie never forgot this flattering recognition of his talent and developed an almost adolescent infatuation with her. Until Queen Mary died in 1953, on every birthday celebration in May, he would dispatch to the palace by private courier at fabulous expense, a bouquet of wild Swiss narcissi picked on the slopes of the Alps. His papers contain numerous letters of thanks from her Private Secretary for the flowers he sent. 'Queen Mary loved music although she had little knowledge of its technical arts,' he reminisced later.
In September Eddie was invited by the Viscount and rather forbidding Viscountess Elibank to a country house party at Black Barony Castle in Peeblesshire to once again meet HH Princess Helena Victoria and give a piano recital.* This magnificent castle, also known as Darn Hall, is near the village of Eddleston, seventeen miles south of Edinburgh.
The steam locomotive Flying Scotsman on which they travelled had begun non-stop services from London to Edinburgh on 1 May.† Eddie was excited about this trip as he had by now developed a deep love of steam trains. At the time it was the longest uninterrupted train journey in the world, lasting a little over eight hours.
He was collected at Edinburgh Station and swished off to Black Barony in the Elibank Daimler, his luggage following in another car.
*Gideon Oliphant-Murray, 2nd Viscount Elibank (1877–1951) was a Scottish politician and member of the aristocracy. He had extensive experience of colonial administration including Papua New Guinea, the Transvaal and the Windward Islands.
† These were luxurious trains allowing one to travel in a style and comfort undreamed of today. The first-class compartment coach was sumptuous, as was the first-class restaurant, decorated in Louis XVI style with concealed lighting. All the food was freshly cooked on the train in a kitchen powered by electricity from accumulators. The carriage corridors had illuminated signs as in European Grand Hotel style indicating the Hairdressing Saloon, Ladies' Retiring Room and Cocktail Bar decorated in a ravishingly modern green and silver colour scheme. The revolutionary design of the tender (the section behind the locomotive which carried the coal) had a corridor, which connected it to the adjoining carriage. This enabled a fresh crew to take over without stopping the locomotive, on this route an L.N.E.R. Class A3 Pacific.
Among the distinguished and aristocratic house guests were Viscount Younger of Leckie,* the somewhat reactionary and puritanical Home Secretary Sir William Joynson-Hicks popularly known as 'Jix',† the American property magnate known as the Duke of Del Monte, and Major-General and Mrs J.B. Seely.‡
Country establishments were not what they had been before the Great War but the atmosphere was far from stuffy. Guests still dressed for dinner and served themselves breakfast from the dining or breakfast room buffet. HH Princess Helena Victoria, although close to sixty, was a lively, ebullient and adventurous personality.
'Jix' was a deeply conservative personality, a Conservative party politician who stood out against the radical social changes that were taking place in the 1920s, particularly among the Bright Young Things. An almost forgotten figure, his period as an authoritarian Home Secretary was seldom without controversy, often of an amusing kind. However he dealt constructively with the profound implications of the General Strike and the imagined fears of Bolshevik conspiracies. He emerged as the bête noire of the intelligentsia and became the butt of many of Evelyn Waugh's satirical barbs.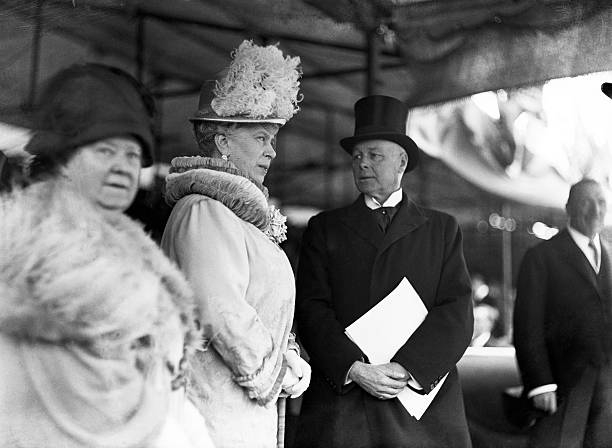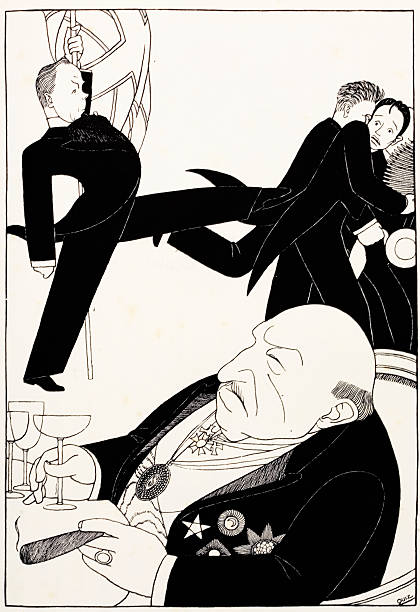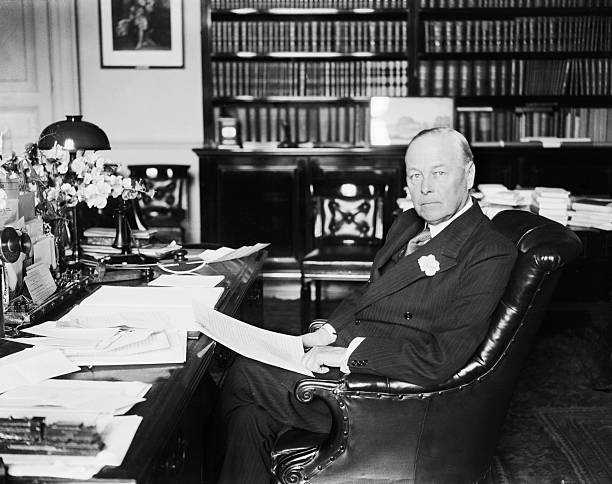 'Jix' suppressed the courageous lesbian novel The Well of Loneliness by Radclyffe Hall. A Mr James Douglas wrote in the Sunday Express in outrage: 'I would rather give a healthy boy or girl a phial of prussic acid than this book.' He notoriously banned D.H. Lawrence's Lady Chatterley's Lover. A close friend, David Lowe the famous cartoonist, mercilessly lampooned him week in and week out and then sent him the original cartoons as Christmas presents, getting in exchange a box of cigars signed 'from your admiring victim'.
*George Younger, 1st Viscount Younger of Leckie (1851–1929) chairman of the great Scottish brewing business Younger.
† The formidable William Joynson-Hicks, 1st Viscount Brentford (1865–1932) was Home Secretary from 1924–29.
‡ Major-General J.B. Seely, 1st Baron Mottistone (1868–1947) was a Conservative, later Liberal MP and a member of a family of politicians, industrialists and significant landowners.
'Jix' was particularly taken with Eddie's rendering of the Amilcare Zanella arrangement of Liszt's La Campanella (The Little Bell). He loved the section of extended and rapidly accelerating trills at the centre of the piece. This was an 'Eddie showpiece' which he brought off in the spectacular manner of the great late nineteenth century virtuosi. At this period many pianists, including Eddie, possessed a unique and exquisite beauty of tone with absolute delicacy and evenness of touch which scarcely any pianist today achieves with the same consistency. Above all, they possessed great sensibility, poetry and charm. He named the section of extended trills in La Campanella 'The Jix Thrill' to the great amusement of the Home Secretary. Whenever Sir William subsequently attended one of Eddie's recitals he requested this piece to be on the programme.
La Campanella recorded by Edward Cahill in Cape Town in 1955:
https://app.box.com/shared/tpz30xcoeh
While at Black Barony Castle an amusing incident occurred when 'Jix' asked Eddie to demonstrate how loudly a piano could be played. 'Although the house was massive I demonstrated it was not soundproof' Eddie recalled. HH Princess Helena Victoria left the Drawing Room in haste at this suggestion and said she would knock on the floor of her bedroom with her slipper when she felt the sound had become insupportable. Eddie set to work with a vengeance on the Liszt Marche Hongroise and not many minutes had elapsed before the princess hammered on the floor of her room. 'At breakfast she complimented me on the completeness of the disturbance.'
HH Princess Helena Victoria and her younger sister HH Princess Marie Louise had become enthusiastic patrons of Eddie and George. During his entire stay he gave a recital every evening at the Princess's request. On another occasion the house party were motoring to Edinburgh to pay a round of social visits. Princess Helena Victoria wanted to know who was going in the various cars and turned to Eddie. 'We cannot afford to let you get cold,' she said. 'You must come in the car with me.' He rode with her in the big Rolls-Royce with the foot-warmers.'
Curious and eccentric happenings were the order of the day at Black Barony.* The Viscountess Elibank warned Eddie one evening to beware of the spirits that haunted the castle in the dead of night. She suspected quite rightly he had an interest in the paranormal. She told him in sepulchral tones that in one of the rooms a figure regularly appeared as if sitting in a rocking chair staring at the fireplace. He fades slowly into the ether accompanied by the smell of cigar smoke and brandy. 'I tried and tried but saw nothing!' Eddie lamented the next morning at breakfast. 'I was hoping for at least a cognac and an Havana!'
* * *
*In 1940, the castle by then a hotel, became the headquarters of the 10th Armoured Cavalry Brigade of the Polish Army, under General Stanisław Maczek (1892–1994) and subsequently used as the Polish military staff training college until the end of World War II.
Perhaps his most glamorous and spectacular concert audience of 1928 was in London. The audience were made up almost entirely of the severe 'old aristocracy' and his ever loyal Princesses. In early November they assembled to hear Eddie and George at Lady Stradbroke's elegant house at No. 26 Belgrave Square.
There was little mention of the actual music in the press but a great deal as ever on the fashions. The formidable Lady Joynson-Hicks ('G' in the photograph above) wearing red and gold brocade and a diamond tiara was present with her devoted husband 'Jix'. Mrs Wilfrid Ashley* wore 'a lovely robe de style of bright green tulle embroidered with gold' and carried 'the most enormous green ostrich feather fan.' Other interesting people at this concert were the composer of songs who loved George's voice, Mme Guy D'Hardelot, the famous Australian singer Ada Crossley† and the notorious Captain Archibald Maule Ramsay and his wife.‡
*Her husband Wilfrid William Ashley, 1st Baron Mount Temple (1867–1939) was a Conservative politician and Minister of Transport 1924–29.
† The contralto Ada Crossley (1874–1929) was an Australian farmer's daughter born in Tarraville, Victoria. Rather like Eddie, she showed prodigious talent at country shows and studied first in Melbourne. She left Australia for Europe to further her studies and was outstandingly successful, having given a number of command performances before Queen Victoria.
‡ Captain Archibald Maule Ramsay (1894–1955) was a British Army officer who later took up politics and became a Scottish Unionist Member of Parliament. In the late 1930s he also became a rabid anti-Semite, holding the customary vitriolic and imaginative world conspiracy theories concerning the Jews. As the thirties evolved, he appeared to develop some sympathy with the growth of Nazism in Germany and Hitlerite policies. In 1940 he had dealings with a suspected spy at the United States Embassy, which led to his intern- ment under Defence Regulation 18b.
Eddie played several of his own compositions at the special request of the two Princesses. Sadly none of these compositions survive. He considered them minor works for the piano, simply salon miniatures that he did not value unduly and played as encores. Reviews of the day reveal such unassuming titles such as Élégie, Autumn Leaves and The Music Box.
The Evening Standard critic was much given to hyperbole in his review of the concert. The sentiments expressed belong to an age of sensibility, even enthusiastic innocence, which had been maintained in certain circles even after the wholesale slaughter of the Great War. This atmosphere would never be recaptured after the even deeper disillusioning horrors of World War II.
He wrote:
The golden dome lamp's rays shone on gleaming brasses, quaint old tapestries, and bowls of autumn leaves, then lingered on the delicate, sensitive fingers of Mr Cahill seated at the Bechstein Concert Grand piano as he drew from the ivories all the secrets of interpretation. His technique is wonderful; but his power of interpreting either the old or the modern composer is glorious. Mr Brooke sang with ease and fluency through all his numbers – his voice has improved since I last heard it to a marked degree, always it has a sweet quality but now there is added power, and his enunciation is almost perfect. Of the two artists one can only say: What memories! What repertoire! What talents! What joy they give!
* * *