Chapter 3
'The East of the ancient navigators'
As the ship left Sarawak and crossed the Java Sea to their next engagement, plumes of ash billowed into the sky from volcanic craters along the 'Ring of Fire'. The Cahill-Brooke Concert Party would soon berth at the port of Batavia (present day Jakarta), the capital of the Dutch East Indies (Indonesia) known ominously as the 'Graveyard of Europeans'.
Javanese natives dressed in colourful batik caps and Dutch traders in white duck crowded the wharf. They were driven with their luggage by 'fast' motor coach a few miles to Weltevreden and the Hotel Des Indes.
The entrance to this luxury establishment was alive with a flurry of red parasols and batik sarongs, motor vehicles, two-wheeled pony traps and bakeks, a type of rickshaw. They were checked into a private bungalow in the extensive grounds. Huge banyan trees (considered holy by the Javanese) grew in the front garden. Festooned with the tendrils of creepers, the branches were full of tiny chirruping birds. Both musicians had begun to feel the uncomfortable heat. 'It is as if we are being slowly cooked!' exclaimed Eddie.
Reviews of these concerts have not survived, but we know they performed in the hotel alongside the tremendously popular Mr Podinovsky's Russian Quintet, which provided nightly dance music.
They also performed at the Concordia Club and the Box Club. Eddie gave a successful recital including Mendelssohn's Andante and Rondo Capriccioso, Schumann's Aufschwung from the Fantasiestücke Op. 12, the second Novelette in D major, and the Staccato Caprice by the forgotten Austrian composer Max Vogrich.*
*Max Vogrich (1852–1916) was born in Hermannstadt, Transylvania (now Sibiu, Romania). A childhood prodigy, he was an acclaimed pianist by the age of 14. He studied in Leipzig under Carl Reinecke, Hans Richter, Moritz Hauptmann and Ignaz Moscheles, completing his studies in 1869. From 1870 to 1878 toured continental Europe, South America, and the United States. From 1882 to 1886 he toured and taught in Australia. He died in New York.
His forgotten works include operas, an oratorio, cantatas, several masses, symphonies, violin and pianoforte concertos and sonatas besides duets, songs, and chamber music.
Probably as a result of years spent in the drapery at Beenleigh, Eddie always dressed in a dapper almost exhibitionist style. After the well-attended afternoon concert at the historic Harmonie Club he spent some time shopping at Oger Frères, a fashionable gentlemen's outfitters. Throughout his life Eddie would remain proud of his appearance, taking a perfectionist, almost a prissy care of details and vainly attempting to cultivate the wild mane of hair so characteristic of the 'inspired virtuoso'. One evening they watched with fascination the traditional Wayang kulit or puppet theatre which had been erected in the hotel garden. For many hours human desires and destinies are acted out by the puppet master, the shadows being cast on a screen illuminated from behind. The drama is accompanied by a small gamelan orchestra*.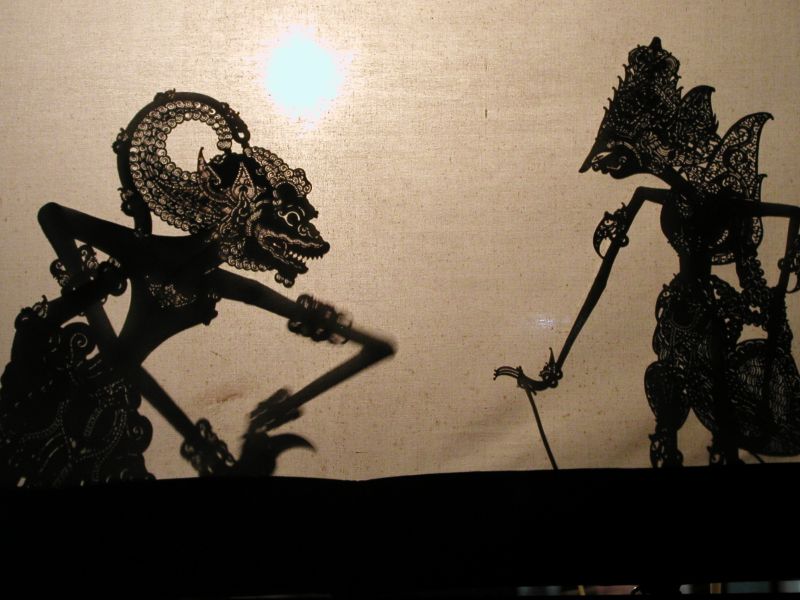 The train travel they had experienced during their concert tour of India had by now become a source of allure to both our artists. Java did not disappoint as they boarded the train to make the long, hot journey to Solo (Surakarta) in Central Java. The carriages were quite open for coolness, and native Javanese seemed to be hanging from every window and door. But these steam trains were fired by wood not coal. This meant that glowing cinders as well as smoke were constantly blown into the carriages burning holes in one's clothing. It was now the end of May and the wet season had drawn to a close.
Java was divided into two royal capitals, both descended from the Mataram kingdom: the Sultanate of Yogyakarta and the Sultanate of Surakarta (Solo). Eddie and George had been invited to perform and also attend a gamelan concert and Wayang orang classical dance at the Palace of the Royal Court or Keraton Surakarta Hadiningrat at Solo in Central Java.
*A very particular musical ensemble of percussion instruments particular to Indonesia. Generally from the islands of Bali or Java it comprises a variety of instruments such as metallophones, xylophones, drums and gongs, bamboo flutes and bowed and plucked strings. Vocalists may also be included. The tuning, rhythm, intervallic structure and notation of a gamelan orchestra is extraordinarily complex. Many of the greatest 20th century Western composers such as Olivier Messiaen were influenced by gamelan music.
Their host, Susuhunan (His Exalted Majesty) Pakubuwono X, wore a black cap with gold bands with what appeared to be a curious mixture of Western dinner jacket and an elegantly patterned batik sarong, slippers and a short sword decorated with flowers. Eddie wrote to his sister:
It is so strange to see this mixture of Eastern and European styles jumbled together! Decorations, waistcoat and sash, enormous rings, even a watch chain as we are used to in the West yet also wearing a gem-encrusted turban and jewelled slippers. His consort looked far less splendid. The peacock and the hen in short!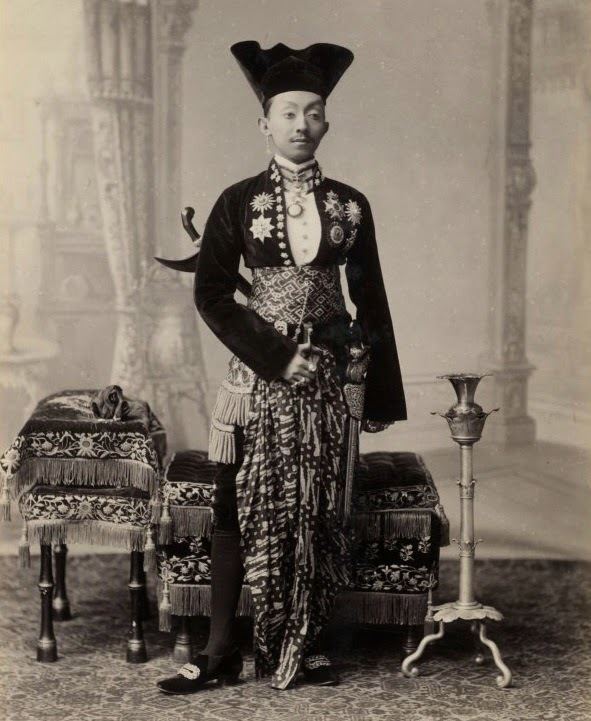 The audience comprised Dutch administrators and 'various aristocratic Javanese personages'. The concert was followed by traditional refreshments of spiced tea, coffee or chocolate with tiny sweet rice cakes sprinkled with coconut.
A gamelan orchestra of native musicians then assembled. They accompanied a Legong dance by two prepubescent female dancers in fabulously ornate gold costumes moving in a sort of trance as Eddie described it 'like butterflies visiting flowers', fluttering wide-open eyes, elegant fingers curving in arabesques and tiny intricate foot movements. There was also a chorus of male and female singers.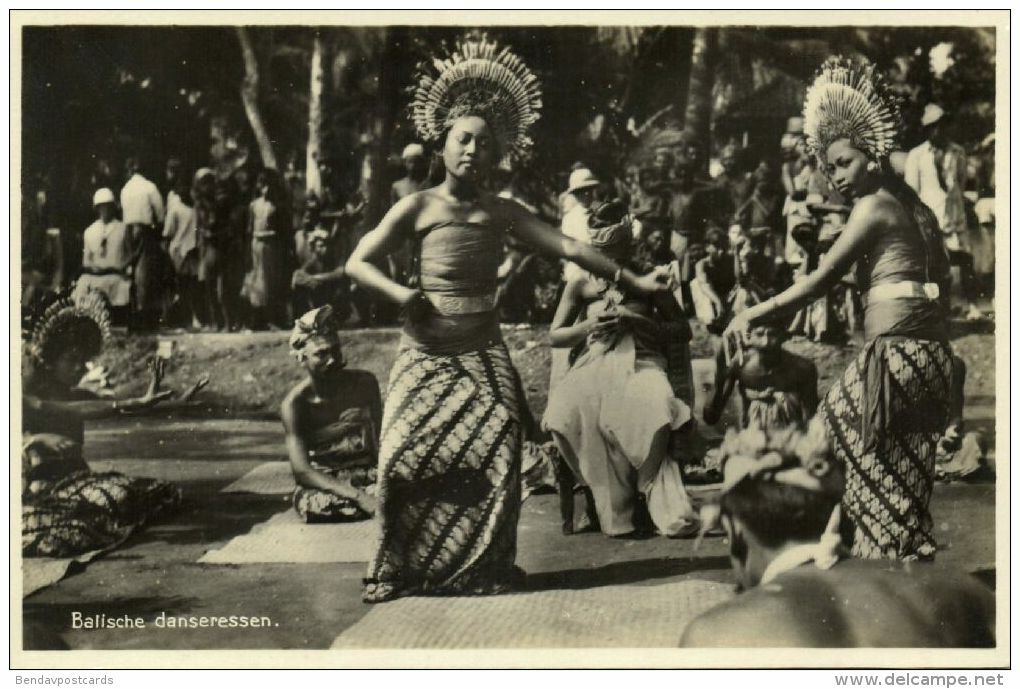 He admired the extreme beauty of the male dancers who followed, their ravishing costumes, the gem emblazoned kris tied with a silk band to their waist, their smooth amber skin, the kohl-shadowed eyes that accentuated their noble profiles and the sensuality of their movement.
After the concert Eddie and George left the palace in the cool of the late evening and wandered under the oil lamps that hung from the banyan trees. They were in a dream, feeling as if they had visited the enchanted realms of a fairy tale.
Their long tour was concluded. As they sailed back to Australia on SS Montoro in late November 1920, they watched fascinated as the distant volcano Mount Bromo spewed a huge plume of ash and pumice. Eddie's taste for the glamorous luxuries of royal patronage was firmly established on this early, sublimely exotic voyage into the heart of India and Southeast Asia.
* * *
Their return to Beenleigh after so many months of epicurean delights and adulation could only have come as an anticlimax. The sumptuous gifts from their Asian journey that he proudly displayed made a great impression in provincial Beenleigh. Diamond-encrusted cigarette cases and ruby cuff-links were not a common sight in small Australian towns. The voyage had also deeply impressed him musically and would contribute to the development of his repertoire. He began to study Debussy's Estampes (Prints) in particular the first, entitled Pagodes, with its evocation of the gamelan orchestras he had so recently heard.
Debussy wrote:
Javanese music obeys laws of counterpoint that make Palestrina seem like child's play and if one listens to it without being prejudiced by one's European ears, one will find a percussive charm that forces one to admit that our own music is not much more than a barbarous kind of noise more fit for a traveling circus […] Javanese rhapsodies, which, instead of confining themselves in a traditional form, develop according to the fantasy of countless arabesques.
After being treated with oriental obsequiousness and acknowledged as a musical celebrity it was difficult for Eddie to accommodate to the harsh realities facing the state of Queensland in the early 1920s. The idea of an Australian Federation of States, which had come into force on 1 January 1901, had not been received enthusiastically by what was now defined as the 'State' of Queensland rather than the 'Colony'. Many Australians had been traumatized by the sacrifices of the Great War, in particular the disastrous Dardanelles Campaign. The Australian casualty rate after the Great War stood at almost sixty-five per cent, among the highest of any Empire country. At one and a quarter per cent of the population, almost every family had been affected including Eddie's own. This volatile political mood was hardly conducive to the creative arts.
The pianist showed no interest in politics, the burgeoning Labor movement or the rise of Australian nationalism. Eddie was a confirmed aesthete. He was no tough farmer's son facing flood and drought, the infestation of prickly pear, venomous snakes or the cane toad. He was never a real 'cobber'. His diminutive stature and artistic temperament only sharpened his sense of being an outsider. 'Only girls play the piano, mate!' was contemptuously thrown at him on more than one occasion.
The state registers a highly masculinist culture, stemming from its penal origins and the pioneering of harsh terrain: rambunctious, brash, violent and larrikin. Women were shown their place … A land always hard like an anvil of survival; a climate in most weathers equatorial, capricious and punishing; and everything befitting living in extremis – the sharper chromacity, the inordinate lushness or barrenness of nature, the roar of insect noise, of cyclone and bushfire, the overbearing humidity and distance – monotonous limitless horizons of red, powdered earth, all drenched in blazing light. *
*Evans, A History of Queensland, p. 270.
The first concert appearance of Eddie and George in Australia after the India and Southeast Asian tour was in February 1921. As part of a wide-ranging concert tour of the country they were billed with the variety vaudeville act known as 'The Sparklers' (songs, popular operatic arias, comedians and ballet) in Brisbane's Palace Gardens Theatre. The audience was large and rather distinguished. The English Governor of Queensland, Sir Matthew Nathan, a soldier and civil servant attended, together with his 'suite' and the Labor Premier 'Red Ted' Theodore (a fierce Labor man) as well as the Mayor of Brisbane. The Brisbane Courier made a comment on Eddie's performance of the Liszt Hungarian Rhapsody No. 2 which illustrates how popular entertainment of the time teetered on the cusp of change from being simple entertainment to being appreciated as more musically serious.
Mr Cahill credited his listeners with an elevated musical taste … he exhibited originality of style without extravagance, and was polished without affectation … While he interprets the most classical works, he also contributes the more popular numbers, and thereby meets with the approval of audiences.
Eddie's popular father died in May at a youthful 64 and was much lamented by the local community and his family. In November 1921 Eddie and George had luncheon at Government House in Melbourne with the 'cheery-faced' Governor of Victoria, George Rous, 3rd Earl of Stradbroke and his volatile and rather informal wife Countess Helena, Lady Stradbroke.† They were able to renew their acquaintance with another guest at this luncheon, Dame Nellie Melba. The introductions they made at this social event were to be of the utmost importance to their future careers. Lady Stradbroke was to give them substantial patronage and letters of introduction before they travelled abroad.

†George Edward Rous, 3rd. Earl of Stradbroke (1862–1947) was the 15th Governor of Victoria, Australia. Helena Violet Fraser (?–1949) was the daughter of Lt.-Gen. James Keith Fraser. She was one of Eddie's most important patrons from the very beginning of his concert career. She married George Rous in 1898 and was created a DBE in 1927.
After much deliberation on the grim employment prospects for them in Australia and encouraged by patrons and friends, Eddie and George finally decided to take that great leap into the unknown for colonial Australians – a passage to London. At the time most Australian musical artists of any talent were forced to travel abroad to study and gain experience. They announced that they had decided to leave Australia for London at the beginning of 1923.
Eddie always planned concerts with a high degree of marketing panache. For the beginning of the 1922 season he proposed an extended series of 'Farewell Recitals' around Australia and New Zealand. Using his personal charm and pianistic talents, Eddie throughout his career ruthlessly cultivated his social contacts particularly with the enthusiastic wives of distinguished citizens.
Their first 'Farewell Concert' was arranged in the Assembly Hall, Melbourne for 2 December 1921 under the patronage of the Lady Stradbroke and in the presence of Dame Nellie Melba.
At  the Grand Opera House Wellington on the New Zealand leg of their farewell tour they appeared on the same programme as the great Ella Shields.* Shields was an American-born vaudeville star, a diminutive male impersonator whose first husband wrote her famous comic signature tune Burlington Bertie from Bow, 'a study of genteel vagabondage from its best angle'. She was billed as 'young and pretty with a lad-like figure, modestly controlled, and yet boyishly virile … [she] puts pep into the most jaded audience'.† She also enthusiastically encouraged them to go to London.
Eddie was becoming increasingly serious about music and tiring of the kaleidoscope of acts that appeared on their programmes. The variety might include 'Harko' the Comedy Cartoonist, 'Togo' the Miraculous Japanese with Sensations of the Orient, 'Nancy Cook' the Winsome English Soubrette with Handsome Frocks, a Dialect Comedian of Pantomime Fame. And yet the silent cinema and music hall had given Eddie a unique and extraordinary apprenticeship for becoming a serious classical pianist.
* Ella Shields (1879–1952).
†Julie Andrews performed this song with great panache in the 1968 movie Star directed by Robert Wise.
Colourful and rowdy audiences trained him to significantly project his personality, subdue his stage fright and carefully plan the entertainment content of his programs. The Sunday Sun reviewed a concert in Sydney at the Tivoli Theatre with the manly vigour of a Regency pugilist:
Edward Cahill, a pianist of quality, proved that he could get a half-Nelson on vaudeville patrons, and hold them enthralled. With Cahill was George Brooke, who sings with fervour, and will be the idol of many a matinee girl.
Their appearance at the Hibernian Hall in Cairns in August 1922 that was excitedly anticipated. The advertisement enthused:
'Hear the Famous Australian Artists prior to Departure for London and Paris. Dame Nellie Melba wires: 'Best Wishes for Success of the Tour'.
The two farewell concerts in September at the Theatre Royal in Rockhampton were extensively reviewed by the Morning Bulletin. The paper enthusiastically predicted that in his wonderfully varied program Eddie was 'on the high road to considerable eminence as a pianist … [ with] the true touch of a master.'
Further concerts at the Tivoli Theatres in Melbourne and Sydney followed before their final embarkation for England and London. George was presented with a handsome tribute from the famous English contralto Dame Clara Butt. She considered him 'the most artistic singer I have heard since coming to Australia'. Their voyage to 'the Mecca of Music' would take them some six weeks.