Chapter 5
A Collar of Diamonds
At the end of May 1924 Eddie and George were invited through the good offices of the Dowager Marchioness of Linlithgow to a dinner and to perform at a sumptuous banquet at Lansdowne House.*
This glamorous dinner was attended by members of the Royal Family (the Duke and Duchess of York, Prince Henry and Prince George) and hundreds of titled and distinguished guests. They dined off gold plate and chose from an ornate French menu offering among other confections Les Coûpes d'Artagnon, Les Suprêmes de Volaille Princesse and Les Délices des Dames. G.H. Mumm 1913 champagne was served throughout, with Royal Tawny Port, liqueurs and cigars.
The banquet was held to present scrolls marking the endowments of beds in the new University College Obstetric Hospital. The band of the Grenadier Guards, the pipers of the Scots Guards and a Welsh male choir performed. 'The boys' gave what was quickly becoming their standard programme at the conclusion of the banquet. It was a long way socially, a near incomprehensible distance, to Lansdowne House from the sheep stations of rural Queensland.
There is not a woman, scarcely a man among us who does not bear witness, in the way he dresses, or dines, or parts his hair, or takes the hand of a lady in a ball-room, that he is a humble imitator of the example set him by people who live in large houses and flourish in the pages of Debrett. There is not a man outside this narrow pale, be he English or Australian, who could walk along Piccadilly in the company of two members of the aristocracy, effete though that aristocracy may be, without a sense of elation bordering on vertigo.†
* Lansdowne House was originally designed and built in 1763 by Robert Adam for the Marquess of Bute.
† Buchanan, The Real Australia, p. 26.
It was after this banquet and before they were due to open on 16 June 1924 at the Victoria Palace Theatre in London that Eddie made a decision that was to have crucial consequences.
Among the introductions I carried with me from Lady Stradbroke was one to a member of the Royal Household. I posted it fearfully one night in a red pillar box, glancing timidly at the address 'Buckingham Palace', and I went back to my flat in Maida Vale wondering whether the letter would be safely delivered and if I should get a reply.
In a few days it arrived. I could hardly believe my eyes! Sir Edward Wallington, Knight Treasurer to Queen Mary, had summoned me to Buckingham Palace.*
What should I do? What should I wear? How should I behave? I didn't know. I had no- one to ask. Never has anyone felt so young and helpless, so raw, so much a denizen of the outer fringes of Empire. I could hardly eat for days. I took long London 'bus rides on the open top deck to soothe my nerves. When it was cold and rained I pulled over the oil sheets and felt cosy. Eddie Cahill, a young pianist who only a year ago had been happily lost in sunny Australia was now invited to go to Buckingham Palace and would probably be asked to play to the King and Queen. At least, so I hoped.
The day arrived when I walked down The Mall to the palace. A sentry in a scarlet tunic, and with a huge bearskin on his head, paid no attention to me as I entered the gates but a policeman stopped me. Whom did I wish to see? I told him. He saluted and I walked across the enormous forecourt to a door on the right of the palace. Sir Edward Wallington quickly put me at my ease.
Footsteps were heard outside the door. 'The Queen,' Sir Edward murmured reverentially. I was told that Her Majesty wished to hear me play and would I attend a concert to be arranged at 69 Brook Street, Mayfair the home of Lady Harcourt. Was I agreeable? Yes, I stammered. I was delighted! And I walked out of Buckingham Palace treading on air. I wondered how my nerves would last out until the day of the concert.
I soon received a letter from the Secretary to Viscountess Harcourt that said: 'The Queen is dining with the Dowager Viscountess Harcourt on July 1 and has informed me through her private Secretary that she would like to hear you play …'
I had been asked to play for half an hour. What should I play? I decided on Chopin.
*Sir Edward William Wallington (1854–1933) had a significant Australian career before his service to the Royal Household as Private Secretary and Treasurer to Queen Mary. This almost certainly influenced his decision to summon Eddie to the Palace. In the meantime, the two artists prepared another season of entertainment at the Victoria Palace.
Eddie continues his account of the royal adventure:
When the day of the concert at last arrived, I again spent shilling after shilling taking 'bus rides all over London to try and forget the ordeal that awaited me that evening. But it was no good.
Nerves are terrible, but I have never met an artist without them.
That night I found myself at 69 Brook Street. Crystal chandeliers blazed down upon the kind of audience I had always seen in my boyhood dreams. Queen Mary, with a collar of diamonds at her throat and a tiara, sat in the front row with the Viscountess Harcourt*. Behind her, blazing with real jewels and tiaras, sat the cream of the English aristocracy, the wives of ambassadors and many men and women distinguished in public life. I walked out to the piano, made my bow to the Queen and played a Chopin Nocturne.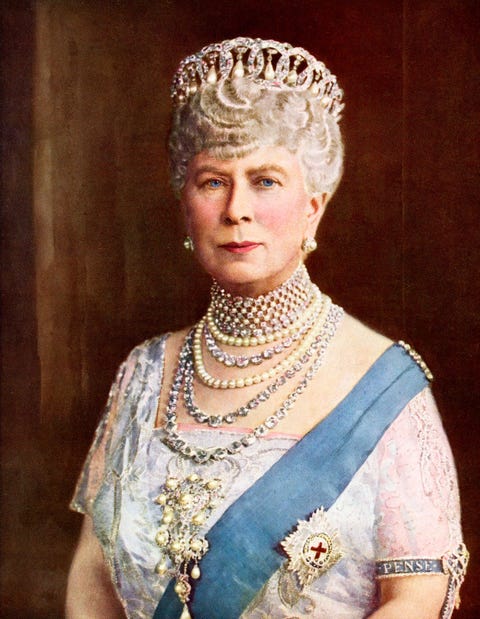 At the end of the concert, pressed to play more, I decided to play a little thing I had arranged on the boat coming over to England from Australia. I called it 'The Musical Box'. As soon as I had played the final note, Lady Harcourt came up to me and said that the Queen wished to speak to me. She was gracious and recalled her impressions of Australia saying her favourite city was Brisbane.
She made no mention of our statesmen, but what impressed Her Majesty most of all were some of the strange creatures that went on two legs – she could not recall the name – but with an undulatory wave of the Royal Forearm she indicated 'the things that go this way' – meaning kangaroos. She wondered if they still had them. She asked about 'The Musical Box' in such a simple friendly way that I found myself talking to her without the slightest embarrassment. I told her that while I was aboard ship, I heard a little girl playing with a musical box and the thin tinkle of the tune got into my head, so that I went to my cabin and wrote it down. The Queen smiled. We had been talking for about fifteen minutes.
To me, Queen Mary symbolized all that a real Queen should be. She was regal but shy, possessed warmth of personality but great dignity. She loved precious jewels and wore them with supreme confidence.
From that moment the doors of all the great houses in Mayfair were open to me. I think I am right in saying I started a vogue for Salon concerts in private homes which lasted from 1923 to 1937, just before the outbreak of the war. This is an era which has vanished but what great memories that era has for those who played some slight role of importance in it.
*Mary Ethel Harcourt née Burns (? –1961), the daughter of an Anglo-American banker, married Louis Vernon Harcourt, 1st Viscount Harcourt (1863–1922) in 1899.
This dinner and entertainment took place on 1 July 1924 and the guest list was indeed distinguished.* The Queen had not been 'out to dinner' for many years. It is curious, a sign of his artistic vanity perhaps, that in this gushing reminiscence Eddie makes no mention of his musical partner George Brooke, who also performed after dinner for the Queen. He also failed to note the presence of the celebrated and glamorous Parisian pianist Madame Caffaret, who performed 'Pianoforte Selections' that evening. In addition, the English art song composer Roger Quilter accompanied the celebrated lyric tenor Roland Hayes, one of the first African- American male concert artists to receive wide acclaim.
A wonderful evening by all accounts. The Dowager Viscountess Harcourt was wearing the famous Boucheron Harcourt tiara and necklace. In gold, silver, emeralds and diamonds it was one of the most glorious tiaras in the age of tiaras.
It says a great deal for the talents of Eddie and George that they were invited to join such august musical company. There was a fanatical enthusiasm for jazz then sweeping London among the 'Bright Young Things'. Lady Cunard's daughter, the notorious shipping heiress Nancy Cunard, scandalized her mother by openly living with her black lover the jazz musician Henry Crowder. Allegedly over lunch the acerbic Margot Asquith asked her mother Maud 'Emerald' Cunard, 'What is Nancy up to? Is it dope, drink or niggers?'† The old aristocracy invited the rather more artistically distinguished African-American singers to perform Negro spirituals.
*Apart from Queen Mary honouring Viscountess Harcourt with her company, among the many guests in attendance at this dinner were the Duchess of Norfolk, the Earl and Countess of Bessborough, the Earl and Countess of Buxton, the Earl and Countess of Chesterfield, Viscount and Viscountess Willingdon, Countess Fortesque, the American Ambassador and Mrs Kellogg, Sir Edwin Lutyens the great architect, Sir George Framp- ton the noted British sculptor and Sir Campbell Stuart, Deputy Chairman of The Times Publishing Company.
† Quoted in Angela Hughes, Chelsea Footprints: A Thirties Chronicle (London 2008), p. 132.
Eddie and George left with a host of future invitations to playing the great Mayfair mansions of the day. More importantly their appearance had been mentioned in the Court Circular. As they made their way home in an elated state, they were almost certainly unaware of the most notorious politico-sexual scandal of the 1920s that had rocked the address 69 Brook Street and the Harcourt family only two years before. Louis Harcourt, known as 'Loulou', the 1st Viscount Harcourt, was discovered dead in his 'Loulou Quinze' dressing room. He had committed suicide by gulping down an entire bottle of a sleeping concoction known as Bromidia.
Although the marriage had appeared outwardly respectable, 'Loulou' was a sexual predator, an enthusiastic paedophile. In the autumn of 1921 he had 'pounced on an Eton boy who, with his mother, was visiting Nuneham Court, the Harcourts' country house in Oxfordshire. Thirteen-year-old Edward James told his mother of the advances of 'a hideous and horrible old man'. She gossiped about the incident in society and it finally came to the notice of the police. The British genius for tasteful camouflage concealed the grim details of the affair and the coroner delivered a verdict of 'death by misadventure' although he had committed suicide. Loulou's extensive child pornography collection disappeared without trace.*
Music would continue to console Lady Harcourt after the family moved to Oxfordshire and Eddie continued to give recitals at Nuneham Court throughout the 1930s.
Henry 'Chips' Channon attended this recital and gave an account of it in his recently published diaries. Loulou had also made sexual advances to him.
Tuesday, 1st July 1924
[…] Arrived in London at eight and hurriedly got into knee breeches for a small musical party at Lady Harcourt's, to meet the Queen …The Queen was very affable and talked to everyone. She was dressed in pink and wore a star tiara…a very tiny and charming party. Lady Harcourt, I think, had wanted to assert herself after her seclusion following the scandal of poor Loulou's [Viscount Harcourt's] death and the Queen, ever willing to do a kindness, had fallen in with the plan. Lady Harcourt was in black, wearing an amethyst train and very like the queen to look at. †
*This account of a famous scandal of the time, not covered in the contemporary press but familiar to 'those in the know', is taken from the detailed description in Matthew Parris, Great Parliamentary Scandals (London 1995), pp. 84–6.
† Henry 'Chips' Channon The Diaries 1918-1938 Edited by Simon Heffer p. 117
* * *
I have been a member of the Eccentric Club in London for some years. Family traits are seemingly carried in the genes. By extraordinary serendipity in March 2012 I was to have dinner in the same house, 69–71 Brook Street Mayfair, in the very same room as 'Uncle Eddie' had given his recital for Queen Mary. The dinner was to be given in the presence of the club patron and royal of my own day, Prince Philip, Duke of Edinburgh together with Lord Bath and Lord Montagu of Beaulieu and about 60 distinguished fellow club members.
We ate in the opulent former Ballroom, surely one of the most outstanding interior survivals in a private London house.* The menu was chosen by HRH The Prince Philip himself and Piper Heidsieck champagne was served throughout. I felt the evening to be an extraordinary coincidence 88 years after my great-uncle had played here.
Before dinner over an aperitif I had briefly spoken to Prince Philip. I explained something of my great-uncle
'Your Royal Highness, my great-uncle Edward Cahill played Chopin for various members of your extended family in the 1920s. Queen Mary in this very room in 1924, also Princess Beatrice, HH Princess Helena Victoria and others'.
He listened attentively and then remarked with characteristic irony before quickly turning away to the next interlocutor.
'Well … lucky for them!'
* * *
Another Afternoon Party in the grounds of Buckingham Palace at the end of June was followed by a recital at 'Number One, London' in the Waterloo Gallery at Apsley House.† At the time this was the most famous privately owned gallery in the world. The Duchess of Wellington had invited a number of foreign ambassadors to view the gallery and asked Eddie and George to come earlier for tea and to discuss the music they would play. They were the first Australians ever to perform there. Eddie spoke of this recital with the greatest pride throughout his life.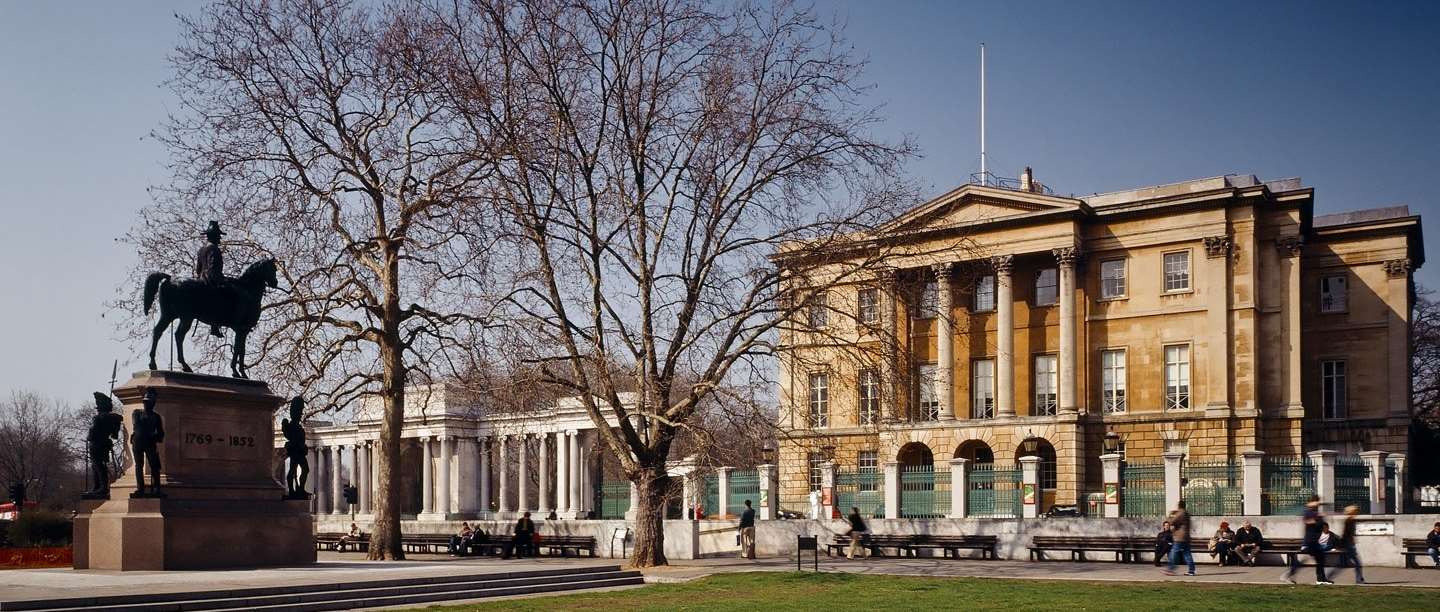 Both artists were fond of horse racing and in late July donned their panamas and motored down to West Sussex for 'Glorious Goodwood'. Various musical engagements followed before the year closed with a tour of the Irish Republic, including a season at the Theatre Royal in Dublin. The Dublin Independent wrote:
Good music appeals to the Dublin public […] Mr Brooke is a true lyric singer, has excellent diction and pure tonal qualities. Edward Cahill has fine technique, backed up by expression and interpretation not often found in pianists.
The Cork Examiner wrote of George's voice:
There is magnificent quality in his voice, and he produces his notes without effort. He is full of temperament, and is gifted with absolutely clear enunciation.
*The building now houses the Savile Club. The Ball in the Fourth Series of Downton Abbey was filmed here. The silver and blue colour scheme was based on that of the exquisite Amalienburg, a small mansion pavilion de plaisance in the gardens of the Nymphenburg Palace in Munich.
† This historic house was originally built in red brick by Robert Adam between 1771 and 1778 for Lord Apsley, the Lord Chancellor. In 1817 it was bought by the Duke of Wellington who carried out many renovations. The house was given the popular name 'Number One, London', since it was the first house passed by visitors who travelled from the countryside after the toll gates at Knightsbridge.
Eddie, as the business brains, had by this time decided that this was 'definitely the last time' they would appear in the Variety Theatres. Both had developed far higher musical, social and commercial aspirations. Surviving financially in the London society of the day was a significant challenge that could not be satisfied by the uncertain income of the music halls. Eddie found the other acts on the bill amusing but artistically demeaning.
In Dublin they had shared the bill with Ted Waite 'The Lachrymose Comedian', a 'well-formed' girl who 'danced very prettily', a card trickster and 'The Dakotas', a group of rope-spinning and whip- manipulating performers 'from the Wild West ranches.'
They had both attended serious music recitals by the great German pianist Wilhelm Backhaus and the spectacular Italian coloratura soprano Amelita Galli-Curci at the Theatre Royal. They realized that additional avenues of serious musicianship could open for them, may even help them survive financially in London, if they applied some serious effort. 'Enough is enough of popular music. No more compromises! Alter course.' From now on, Eddie's address book chronicled a social climber of epic proportions.
* * *
The traditional English country house is arguably one of the finest contributions the nation has made to European art and architecture. The romanticism of woodlands, broad acres of arable or grazing land, a distinguished building and attractive gardens create an aesthetically irresistible ensemble. Many wealthy self-made men of business built new country houses along similar lines.
Eddie and George were invited to stay at Horwood House near the village of Little Horwood in Buckinghamshire. They had already played in the village hall but not at 'the big house'. The mansion had been built in 1911 by the Irish millionaire pork and bacon magnate Sir Frederick Denny and his wife Maude. The motivation at Horwood was decidedly different from their aristocratic forebears. These houses were seldom conceived as a statement of authority, grandeur and power as were the Elizabethan or Palladian prodigy houses of the past. As Vita Sackville-West observed, the new aspired to be 'essentially part of the country, not only in the country but part of it, a natural growth.'* As much effort was directed towards varied plantings and inspired garden design as to the house itself. The distinguished gardener Percy Thrower, son of the house gardener Harry Thrower, was born there in 1913.
In a 1923 Country Life feature on the house, Christopher Hussey† observed of Horwood: 'the unity is wonderfully complete; the unity is one of genial simplicity.' This emerging class was progressively being absorbed and accepted into the upper classes after the Great War and were increasingly attracted to artistic patronage as an indication of high cultural status. Eddie and George admirably fitted the position of 'musicians in residence' defined for them by the Dennys.
The first glimpse of an English country house by a visitor from abroad is a sight never to be forgotten. In a letter to his sister from Horwood, Eddie relates that one morning in April he was walking beside a formal étang or pool between clumps of daffodils and crocus. A stand of tall elms led him to a flagged path past a water-lily pond bordered by weathered brick walls and fruit trees. The path continued to a rugged field newly planted with elegant silver birch and rhododendrons. Beyond, he strolled into a spinney and a wild bog garden over a rickety bridge and stream edged with reeds and spiky iris. Dew glistened on vibrant green fields studded with oaks in the middle distance. He reflected on the extraordinary twist of fate that had brought him to this point in his career in such a short space of time. He wondered how long his good fortune might last.
*V. Sackville-West, English Country Houses (London 1941), p. 7.
† Christopher Hussey (1899–1970) was one of the major authorities on British domestic architecture of his generation and in particular English gardens and landscape. His writings on the ethos and design of the English country house were outstanding and influential. Horwood House is now a conference hotel near Milton Keynes.
Frederick Denny had married Maude Marion Quilter (elder sister of the master of the English art song, Roger Quilter) in 1888. Born in 1868 and the eldest of seven children, she had grown up partly in Sydenham near Crystal Palace, the venue for numerous concerts and an area where many eminent English musicians of the time lived. This environment, together with a brother who became a famous composer, had sensitised her to the power of music and musicians. Roger Quilter's biographer Valerie Langfield observed:
This was a family used to comforts, money, servants, a family that felt it had a reputation to develop and maintain. However, it was above all [her father] William Cuthbert Quilter's autocratic outlook and philosophy that dominated the family.*
*Valerie Langfield, Roger Quilter: His Life and Music (Rochester 2002), p. 6.
Maude's father, Sir William Cuthbert Quilter was a remarkable man: an MP, stockbroker and extraordinarily successful businessman who left an immense fortune when he died in 1911. He had built Bawdsey Manor on the Suffolk coast in 1886, a monumental farrago of architectural eclecticism (Victorian Tudor Revival) where Eddie frequently performed in the late 1920s and early 1930s. Maud's mother Mary Ann Quilter (née Bevington) came from a wealthy Quaker family which had established a leather business in London. Maude Denny was one of an emerging class of wealthy 'new' hostesses in London. She became Eddie's most loyal patron for the numerous concert tours of England he made between the wars. His idea of musical 'At Home' recitals both in town and country establishments was taken up as a new fashion by many hostesses of the period much to Eddie's financial and social satisfaction. In such country houses they met glamorous and theatrical artistic luminaries such as Dame Edith Evans*, Dame Clara Butt†, Dame Sybil Thorndike‡, and Ellen Terry†.
*Dame Edith Evans (1888–1976) was an outstanding English stage and film actress. Her stage career spanned sixty years during which she played more than 100 roles. One of the most famous was the haughty Lady Bracknell in Oscar Wilde's The Importance of Being Earnest.
† Ellen Terry (1847–1928) was a beautiful English stage actress who became the leading Shakespearean actress in Britain.
† Dame Clara Butt (1872–1936) was an English contralto, recitalist and concert singer. Her voice was unusually powerful and deep fitting the dominant ambience of the British Empire of the time. The Edwardian composer Elgar composed his famous Land of Hope and Glory for her.
‡ Dame Sybil Thorndike (1882–1976) was a great British actress who toured internationally in Shakespearean productions. The playwright Bernard Shaw wrote Saint Joan for her in which she starred with great success.
Like many of their patrons in London, Maude had a particular interest in Australia and Australians. She had been close to her exceptionally tall and authoritative brother Arnold Quilter, who had a distinguished military career. He was Rupert Brooke's commanding officer. Quilter was cautioned by the Commander-in-Chief General Sir Ian Hamilton concerning Brooke: 'Mind you take care of him. His loss would be a national loss.' These warnings were to no avail as he was already ill, bitten on the lip in Cairo by the same type of virulent Egyptian mosquito that killed Lord Carnarvon following his discovery of the tomb of Tutankhamun.
Brooke finally succumbed to septicaemia on 23 April, 1915. Arnold Quilter was part of the burial party that made their way to a small olive grove high on the island of Skyros where Brooke was buried in a grave lined with olive branches and aromatic sage. A fortnight later Arnold too lay dead on the grim shores of the Gallipoli peninsula. Her intense grief caused Maude Denny to take a more than a casual interest in matters Australian. She became tireless in the promotion of 'her own two Australian boys' Eddie and George.
* * *
The two musicians had spent Christmas 1924 and New Year 1925 in Paris. The city was an exciting and glamorous revelation. George studied French, corrected his enunciation and increased the many French songs already scattered throughout his programmes. Eddie established contact with one of the most outstanding musicians of the day, the Swiss-French pianist, pedagogue and Chopin interpreter extraordinaire, Alfred Cortot‡.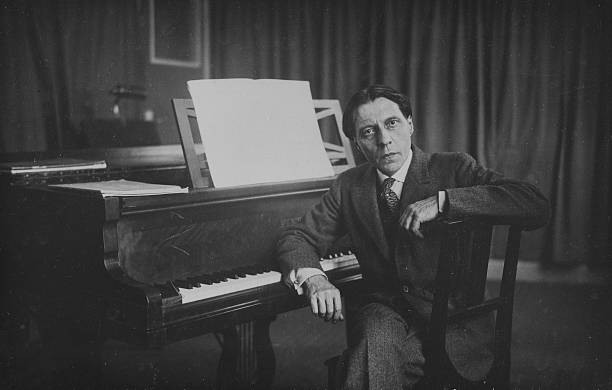 ‡ Alfred Cortot (1877–1962) was a Swiss-French pianist born at Nyon in the wine-growing district of Vaud on the shores of Lake Geneva. He was one of the most respected and inspiring performers and teachers of Romantic piano music, especially that of Chopin and Schumann. He continues to have an illustrious career even in death as he was among the last of the great age of 'subjective interpretation'. His controversial support for Vichy France and the Nazis during the Second World War has been forgotten by today's students of the instrument who are fascinated by his individualistic, intuitive and poetic interpretations. Notable pupils of Cortot included Vlado Perlemuter, Halina Czerny-Stefańska, Clara Haskil, Dinu Lipatti, Samson François – and Edward Cahill. Daniel Barenboim commented: 'He always looked for the opium in music.'
Cortot's methods were partly influenced by Tobias Matthay, so Eddie maintained muscular continuity in finger exercises and directives concerning posture. A favourite maxim for Cortot was 'find the right gesture, and the passage will play itself'. He directed Eddie to work on his digital weaknesses using the manuscript of his as yet unpublished book Rational Principles of Pianoforte Technique. Cortot divided instrumental study firstly into psychological factors, which he felt to be a function of personality and taste, and secondly into physiological factors, such as the movement of the arms, hands and fingers. He conceived of the bulk of piano exercises in somewhat hyperbolic language:
'…the problem of pianistic technique is seen wearing the terrific aspect of a hundred-headed hydra. My method demonstrates the vulnerability of the monster.' *
Although not taken on as a full-time pupil, Eddie took a significant number of lessons from Alfred Cortot in Paris and on the Riviera. He realised that the Cortot Chopin and Schumann interpretations were visionary 'despite the many wrong notes'†.
Eddie and George stayed with the Dennys at Horwood through March and April of 1925, assembling suitable programmes, extending their repertoire and practising. In early May, when the household had moved to London for The Season, Eddie conceived the brilliant idea of hosting their own afternoon 'At Home' using Maud's London residence at 73 Grosvenor Street, Mayfair.‡ Most of the houses in the street were still in private occupation at that time. Eddie was in his element.
'Those clever Australian artists' stood at the head of the heavy oak staircase and welcomed their many distinguished guests. The visitors passed into a double music room, one for the musicians and the other separated by an arch for the audience. George sang a number of duets with the soprano Miss Elsie Treweek.
*Alfred Cortot, Rational Principles of Piano Technique (Paris 1928), Foreword p. 1.
† Remarked in conversation with the author in Monaco in 1968.
‡ The house is now the London headquarters of Estée Lauder cosmetics.
Many in the audience who had not heard Eddie and George for some time were 'delighted with the extension of their repertoire'. It was generally decided the Negro spiritual melodies and Maori songs were the most arresting music on the programme. The Quilter songs, which George had only recently studied, were accompanied by the composer and were also very popular.
Among the guests were the Duchess of St Albans*, the Dowager Marchioness of Dufferin and Ava†, the Dowager Marchioness of Linlithgow, Lady Swaythling‡ (who would become another adoring patron), Lady Weigall, Sir Edward Wallington, the song composer Madame Guy D'Hardelot, Mrs Neville Chamberlain and many other now forgotten members of the aristocracy. The British Australasian reported rather trivially
Tea had previously been served downstairs, and the table decorations of early blossoms conveyed a very refreshing breath of spring. The carnations everywhere, too, were a tribute to the garden at Horwood, Mrs Denny's country house in Buckinghamshire, which is famed for its beauty.
The Sketch in a tone of patrician detachment observed that at the Chelsea Flower Show the 'huge branched calceolaris used in the dining room' were now considered acceptable in the best circles '…and don't suggest the semi-detached villa in the least.'§ Society also desperately needed to know that Lady Quilter wore 'a very attractive dress of the new dark powder-blue.' There was no comment on the quality of the music performed. Eddie and George had rather thrust themselves almost exclusively into the midst of the older conservative British upper classes.
*Beatrix Beauclerk, Duchess of St Albans, Marchioness of Waterford (1877–1953), born Beatrix Frances Petty-FitzMaurice, was a daughter of the 5th Marquess of Lansdowne and his wife, Maud.
† The Marchioness of Dufferin and Ava (1843–1936) was the wife of Frederick Temple Hamilton-Temple-Blackwood, 1st Marquess of Dufferin and Ava (1826–1902) who was a distinguished Governor General of Canada (1872–78) and an outstanding Viceroy of India (1884–88).
‡ The fabulously wealthy Gladys Helen Rachel Montagu (née Goldsmid) Lady Swaythling (1879–1965) was a member of both the Goldsmith and Rothschild banking families. She was married to Louis Samuel Montagu, 2nd Baron Swaythling (1869–1927) who was a pre-eminent British Jew, financier, and political activist. He was the heir of Samuel Montagu, 1st Baron Swaythling, who had founded the bank Samuel Montagu & Co.
§ Gastrochilus calceolaris is a type of orchid endemic to the Philippines.