Instalment 2
Chapter 1
Little Lord Fauntleroy in the German Pocket
Eddie's work in the silent cinema was the beginning of his artistic career. However whilst inhabiting the world of celluloid dreams, roaming the outback and playing in darkened cinemas Eddie did not really take much note of the worsening world situation. It was reported on 28 June 1914 that a European town called Sarajevo was in mourning for an Austrian royal personage who had been shot by a lunatic. Tributes to the nobleman, the Archduke Franz Ferdinand, were paid by the British House of Commons. Sir Oliver Lodge, on his way to Melbourne in July for the meeting of the British Association, said it was most regrettable that Britain should fight over 'a little bother in Serbia.'
The gravity of the European crisis was overlooked in general in Australia as other matters were distracting the public. Dame Nellie Melba was on her way home. Through her influence the Commonwealth Government had acquired the Marconi patents for wireless broadcasting. Australia was beating Canada in the Davis Cup and Maurice Guillaux was setting out to carry air mail from Melbourne to Sydney, then the longest air mail flight in the world. When war was actually declared the Sydney Morning Herald drew itself up:
'Above and beyond everything our armies will fight for British honour. It is our baptism of fire.'*
Eddie had chosen not to enlist for the Great War despite the pressure exerted by his younger and more jingoistic brother James. He did not particularly dislike Germans – his mother was one.
The whole idea of hatred, death and killing were abhorrent to him. The war had silently crept up on most people. His mother was secretly relieved. She had suffered and wept enough when his brother James had enlisted in 1916. Another son heading towards the trenches would have been too much to bear. His Irish father was strangely non-committal, yet he seemed to exert an invisible pressure on his artistic son not to be a shirker and do his duty.
* Sydney Morning Herald, Thursday 6 August 1914, p. 6.
Eddie never forgot the shame of being handed a white feather in full view of the drinkers outside his father's hotel by one of the pretty Beenleigh girls. For the entire period of the war he felt neurotically divided between the responsibility he felt towards his artistic calling and a nagging guilt for failing to enlist. An idea of the prevailing attitude to culture is contained in the earliest newspaper mention of Eddie in the Darling Downs Gazette of Saturday 19 June 1913. He is referred to as 'the brilliant young pianiste' in a society gossip column entitled Le Beau Monde, the writer having adopted the moniker 'Pansy'. Of his concert in Toowoomba on 21 July a perceptive columnist was one of the first to describe qualities that remained throughout his career
Mr Cahill's technique lacks nothing in accuracy, his taste is excellent and he has the enviable facility of making the audience firm friends by his unassuming manner and undoubted facility.†
The German Dauth immigrant side of his mother's musical family were silently marginalized as 'enemy aliens' although not interned during the Great War. The discrimination did not reach the heights it did in England where even dachshund dogs were attacked in the street. Some five percent of the population of Queensland was of German heritage, yet the state had a more moderate policy towards internees than most other Australian states. Overall, the pressure of immigration remained an inflammatory issue. The town of Innisfail was described by the notorious Smith's Weekly as 'a town of dreadful dagoes … a filthy foreign scum oozes from its highways.'‡
† Darling Downs Gazette, 22 July 1913, p. 6. At this concert Eddie performed Liszt's Hungarian Rhapsody No. 12, the Chopin Nocturne Op. 27 No. 2 and Prelude in C minor Op. 28 No. 20 as well as the Scherzo-Caprice Op. 22 by the now forgotten French composer Benjamin Godard (1849–95). At this time he played Gors and Kallman German pianos.
‡ Quoted Evans, A History of Queensland, p. 176.
* * *
Another of Eddie's few brief periods of formal study of the instrument entailed six months in 1912 with a Mr J. A. Johnstone of Melbourne, described by the Queenslander newspaper as being 'a musician of broad views and great knowledge, a clear and commonsensible thinker and writer on musical subjects, and altogether one of the best equipped teachers in Australia.' Overflowing with natural talent Eddie was largely a self-taught musician with the sustaining vanity that accompanies such gifts. He had left the family nest and was now committed to making his living from music, specifically piano playing.
Early in 1914 he was to be introduced to a man who would change his professional life considerably. The English-born singer, variety artist, entrepreneur and businessman Edward Branscombe had arrived in Australia in 1896 with the English Concert Company. He had been a solo tenor at Westminster Abbey during much of the 1890s, but his career is primarily associated with Australia. In 1901, following a tour of South Africa, Branscombe assembled the Westminster Glee Party and toured the Commonwealth performing a repertoire of English part songs, glees, and madrigals. In addition to his role as soloist, he acted as music director, conductor, and arranger.
Unlike Britain where the musical hall and vaudeville attracted fairly exclusively working-class audiences, the average Australian audience comprised a considerable mix of classes and tastes. Australian theatre was not exclusively preoccupied with bushrangers, convicts and the harsh life of settlers in the outback although they took their rightful place as a reflection of the country's history. Variety acts and plays from abroad were equally if not more popular than the home-grown product.
Branscombe pioneered the use of open-air venues in Australia with his 1909 season at the Melbourne seaside suburb of St Kilda. Open-air garden theatres were subsequently opened in Brisbane and other state capitals. By 1911, Branscombe had put together a number of troupes under the generic title 'The Dandies', the name reflecting the elegant style of costuming and stage decoration. Each troupe, comprising around a dozen performers and a music director/pianist, was distinguished by a colour. Beginning with the Orange Dandies, subsequent companies evolved in the manner of the rainbow to be the Green, Pink, Red, Violet, and Scarlet Dandies.
These companies maintained a significant presence around Australia throughout the First World War, and in this respect played a particularly important role in the country's cultural development, particularly in the smaller, more far-flung capital cities. They employed more than sixty performers at a time and each troupe had an almost exclusive repertoire of many original songs. They presented new material each season. The performers were experienced, multi-talented professionals from the worlds of music hall, vaudeville, or musical comedy. Eddie was taken on as the music director and pianist of the Violet Dandies for the 1914– 1915 season and the Orange company from 1916–17. The Orange Dandies had orange and black stage decorations and the men in the troupe wore evening suits faced with orange silk. He greatly respected Branscombe's attention to detail and musical knowledge.
The home of the Brisbane cast was the Cremorne Theatre on the banks of the Brisbane River. The great Polish pianist Ignacy Jan Paderewski performed there on his tour of Australia and commented favourably on the musical discrimination of Brisbane audiences.*
Eddie performed more serious classical works as well as vaudeville accompaniments, some composed by himself. In popular venues such as the Exhibition Gardens in Adelaide he was sometimes restricted to an upright piano by limited stage space. He loved Weber and performed the Invitation to the Dance with vocal accompaniment as well as the Konzertstück in F minor and the Grieg Piano Concerto A minor with his sister Lily (also an excellent pianist) who performed the keyboard reduction of the orchestral parts on a second instrument.
Glittering confections played with his characteristic élan and panache such as the Grand Polka de Concert Op. 1 by the forgotten American composer Homer Newton Bartlett (1845–1920) were tremendously popular. He was born in Olive, New York. A pianist and composer, he was considered one of the finest of American musicians.
*Ignacy Jan Paderewski (1860–1941) was a Polish pianist, composer, politician and states- man who battled for Polish independence. He was well known and deeply respected on a global scale for both his musicianship and as a statesman. He was the prime minister and foreign minister of Poland in 1919, and represented Poland at the Paris Peace Conference in the same year.
The fine pianist Harold Bauer, a pupil of Paderewski who performed with Pablo Casals and Fritz Kreisler, was touring Australia early in 1913.† He was greatly impressed with Eddie's playing and encouraged him to study in Paris. The outbreak of war and financial constraints prevented any serious consideration of this idea.
The Brisbane Courier described what an audience might experience in this type of early Australian theatre during the capricious summer weather:
Open-air entertainments are delightful on summer evenings in Brisbane, and the popular 'Cremorne' theatre, situated on the river bank, South Brisbane, facing the south-east, and open to the cool breezes, is always a favourite resort. During the cool evenings, and when the weather is threatening or unpropitious, the popular theatre is converted into a huge canvas hall, and completely enclosed in waterproof awnings and side screens which afford protection against inclement weather.‡
A decisive meeting came about during this happy period when Eddie met the lyric tenor George Brooke (b. 1886), also a performer with the Violet and Orange Dandies. Eddie was very taken with his superb voice and together they performed English art songs, German Lieder and in particular Negro spirituals of which George was particularly fond. He had studied singing in Melbourne under a Professor Frederick Beard. The British minstrel show was enormously popular in Australia at this time and the more artistic and spiritual forms of its expression were greatly appreciated by 'cultured' audiences. In a broadcast for the BBC in the 1930s Eddie reminisced about his first meeting with George Brooke:
'I met my fate in the person of George Brooke. He became my partner in every musical venture, and my life-long friend. He had previously been a clerk in a bank but found it so desperately boring he decided to pursue his dream of being a singer. I had gone over to Manly one warm summer evening to see the Dandy Show. There were about a dozen performers in the company which appeared to be a very popular one.
†Harold Bauer (1873–1951), a notable pianist born in Kingston upon Thames to a German father (a violinist) and an English mother.
‡ Brisbane Courier, 22 September 1917, p. 12.
But George Brooke the singer was even then the star attraction of the show. A man with expressive dark eyes and a smile that disclosed teeth of dazzling whiteness, he was noticeable on the platform by a certain aloofness, an expression almost of boredom, when he was not actually singing. The moment he opened his mouth he appeared to become another person, and seemed to exert on his audience, quite without effort, an extraordinary personal magnetism.
The atmosphere of the crowded audience changed imperceptibly as he sang his first number. People sat silent, attentive, not a dress rustling, not a cough or movement. He sang a simple ballad The Empty Nest. Another artist might have rendered it sugary sweet, an ordinary song. This young man lifted it into the realm of true art. I knew then he was destined for greater things than a Dandy show. It was not long now before I was in the same show playing for Brooke, and this was the beginning of a great partnership that lasted until his untimely death.
George, although he knew as well as I did, that he 'had the goods' was always more apathetic in business than I was and it was becoming more and more the rule between us for me to be the battling member of the firm. That was the difference in our respective temperaments. It has always been my way to rush in where angels fear to tread, but George was more of the 'live and let live' type. 'Leave it to Ed' in business matters was his slogan. He had less sense of money than anyone I ever knew. I have even known him to start out to do our household marketing with a five pound note returning with five pounds in change and an armful of purchases! 'Why worry?' was his motto and yet strange to say, he was wonderfully accurate and painstaking in things of real importance he wanted to carry through. It was always left to Brooke to look after the cash. In the job he was quite in his element, never made a mistake in the reckoning and never lost sight of it until it was safely in the bank.'
You can hear a rare recording by Edward Cahill's musical partner George Brooke of My Love Parade from the American musical comedy film The Love Parade and Peasant Love Song from the film Married in Hollywood – Columbia Records 1928
(Permission from the National Sound & Film Archive Australia)
https://app.box.com/s/kxs7e8cfnn8bywz1flw33xh3618lfkh1
Another consequential moment occurred early in 1915 in Adelaide on one of their earliest Australian tours with the Dandies when Eddie and George met Dame Nellie Melba.*
*Dame Nellie Melba (1861–1931) was an Australian operatic lyric soprano of incalculable fame and renown in her day. She became one of the most famous singers of the late Victorian period performing for Royalty across Europe, the Tsar of All the Russias and Leo Tolstoy. She was the first Australian to achieve international recognition as a classical musician and became a household name. She actively supported her compatriots, like Eddie and George, if she felt that they, as she put it rather bluntly, 'had the goods'.
Eddie continues in a broadcast reminiscence:
'The diva at that time was giving a series of concerts in the Exhibition Building – a great barn of a place – in whose pleasant gar- dens our own show was also holding a season in the open air.
We frequently said to one another 'What a bit of luck it would be for us if we could induce Melba to hear our work.' The idea grew to be a sort of superstition in our minds. If Melba would hear us and approve, all would be well. I remember the clock striking 12 on the night when we finally sealed a letter containing our request to Melba to give us a private audition and I said to Brooke 'Surely that is a good omen for us.' George was just as keen on the idea as me, but, as usual I did all the talking!'
Next morning we were summoned to Government House, where Melba was staying as the guest of Lady Galway.* I had heard Melba sing. How can I describe her voice? To me it was as sparkling as silver. There was a coolness about it. It is almost impossible to describe the beauty of it. I can never forget that haunting white quality, or should I say that perfection of tone in Salce, Salce the Willow Song sung by Desdemona in Verdi's Otello. Meeting her face to face on such an important mission was a very different matter. We knew of her erratic temperament, her moods, her sudden likes and dislikes, How would she act towards us?
Punctually at the appointed time Melba came into the drawing room with that quick, forceful step of hers that was so characteristic. We had heard from Lady Galway that Melba was exhausted under the strain of the previous night's concert, but there was no evidence of it in her appearance. She immediately asked us to begin. I played one of my favourite works, the dramatic Bach-Tausig Toccata and Fugue in D minor and Brooke sang the German Lieder that he loved so well. Before Melba had spoken we both felt she was interested in our work. In her abrupt, spontaneous way she asked me to also play some work at two of her concerts.
As we were about to leave she said 'Always keep something in reserve. Never give the public all you have.' This of course was of great value to me as a professional pianist.
* Lady Galway (1876–1963), Marie Carola Franciska d'Erlanger, was a Baroness and the only daughter of the Irish Baronet Sir Rowland Blennerhassett and Countess Charlotte Julia de Leyden, a biographer and historian from Bavaria. She was a British charity and civic worker and advocate for women's rights.
She married Lieutenant-Colonel Sir Henry Lionel Galway, KCMG, DSO (1859–1949) who was the spectacularly controversial Governor of South Australia from April 1914 until April 1920. During the Great War the Governor stirred up resentment against Australians of German descent despite the fact his wife was half German.
Subsequently Melba said to Brooke 'You must both go to London after this terrible war is settled. Better to be a lamp post in London than a star in Australia.' Naturally this gave us great heart. Melba had enormous strength of character. The Queenslander newspaper commented on the success abroad of Percy Grainger. Of the re- mark made by Madame Melba the paper observed 'Paderewski is still on the throne, but the world is wide, and there is plenty of room and reward for pianists of exceptional quality.
When the time came she promised to give us letters of introduction to her manager in London and something special to my heart, a letter of introduction to the great Russian pianist Vladimir de Pachmann.* At the time he was considered one of the greatest Chopin interpreters in the world. I always likened Melba to a Roman Emperor.'
Performing with George he found it easier to calm his nervous tension. Described as 'bright, alert, happy and breezy in speech, quite modest in regard to his attainments but an enthusiastic music lover'† he occasionally and surprisingly suffered stage fright. They gave many concerts as a duo all over Australia to great acclaim in addition to their Dandies contract. The 'sharing' of musical discoveries rather than 'presenting' music would be the source of their continuing popularity. Their work with the Dandies helped them achieve a remarkable balance in skillful programme design within a variety of musical genres. A Schumann Novelette or the Chopin Grande Valse Brillante might jostle surprisingly well with the popular and stirring Maori song Waiata Poi; a Liszt Hungarian Rhapsody may follow a Negro spiritual; serious Schubert Lieder or Puccini operatic arias hold hands with charming salon piano pieces by the largely forgotten composers such as Cécile Chaminade‡, Amilcare Zanella§ or Benjamin Godard.
* The Russian pianist Vladimir de Pachmann (1848–1933) was regarded as one of the greatest pianists of his day and considered by his public as the greatest interpreter of Chopin. He was possessed of extraordinary eccentricities during performances, often engaging the audience verbally, describing how he was playing, even praising himself lavishly and audibly in mid-piece. 'Excellent Pachmann!'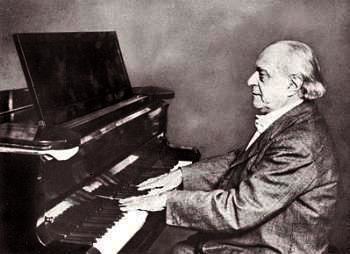 † Prahran Telegraph, 5 February 1916, p. 4.
‡ Cécile Chaminade (1857–1944) was a now largely forgotten French composer who had an extremely successful career performing her own works with inimitable Parisian chic and panache.
§ Amilcare Zanella (1873–1949) was an Italian composer and pianist who became famous in Argentina and later Director of the Conservatoire at Parma and then later a renowned musical figure at Pesaro on the Adriatic coast of Italy.
Not all the reviews were glowing ('Mr Cahill's fingers work faster than his feelings. He necessarily was not so successful where a deep note of feeling has to be sounded, but in others he was delightful … Mr Brooke also is too obvious in his intentions', wrote the rather mean-spirited music critic of The Argus in Melbourne in November 1917). It was slowly becoming clear that if their star was to rise, a period of 'study overseas', preferably in London, would be the next sensible step.
Eddie was a neurasthenic individual, super-sensitive to criticism, and towards the end of 1917 had a complete nervous breakdown. This was the first of a number he suffered throughout his life that hints at a manic-depressive personality or bi-polar disorder. The source of his anxiety was perhaps only partly the result of his fear of audience and critical reaction to his playing. There was the prolonged guilt associated with not enlisting and grim apprehensions for his brother fighting at the front. As my researches deepened I began to wonder about his sexual orientation. In this censorious time it may have given him worsening inner conflicts. Certainly he was afflicted with what is now known as 'free-floating anxiety', generalized worry out of all proportion to the risk. Anxiety was the first inherited familial aspect of his personality I noticed in myself.
It was thought by the Dandy company that Eddie would need to give up the concert stage for at least a year. However, being a resilient personality and at base a bubbling optimist, he turned matters to his advantage, even attracting a fee for a newspaper testimonial praising the manufacturers of Elliott's Beef, Iron and Malted Wine which apparently restored him to mental health 'I am back at my piano again and now feel as ever I was. Your wonderful tonic is a real 'pick me up' saving me weeks of illness.' So well in fact that he gave a 'heartily applauded' charity concert for the State War Council's Appeal Fund at the Town Hall in Melbourne in March 1918.
The Armistice with Germany was signed on 11 November 1918. Eddie and George were suffering chronic financial need and cast about them for further opportunities. Eddie had become deeply depressed over the deaths in a single year of his brother James from influenza and his beautiful sister Mary, beloved for her selflessness, from acute rheumatism. A sense of mortality now lay heavy upon him. Unemployment was a chronic immediate post-war problem in a land hoping to become in the words of the British Prime Minister Lloyd George, 'fit for heroes'.
Now that the war seemed to be haltingly drawing to a close they decided to leave the Dandies and take the risk of setting up alone as the Cahill-Brooke Concert Party. An account of a concert in the Brisbane Daily Standard of April 1917 indicates initial difficulties:
The Centennial Hall on Saturday night was too small to accommodate the enthusiastic audience that greeted them. The need for a decent hall for this class of entertainment was never so apparent as on this occasion. The promoters did their best to hide the 'dinginess', but were powerless to eliminate the noise of clicking billiard balls and roisterers in the backyard adjoining the hall. A tin of rubbish and offal made its presence felt in the outside passage until a soldier volunteered to remove it. Apart from these disadvantages the acoustic properties for vocalists are bad.
After a generally successful Australian tour (where the Moonlight Sonata was usually considered the high point) the primary critical observation, apart from their exhibition of great talent and attracting insistent encores, was that their immense popularity stemmed from 'playing to suit the tastes of lovers of all classes of music'. Not all was cherry blossom. Classical music critics called for more seriousness from Eddie and more spontaneity from George. Yet most agreed on their tremendous musical promise. It was widely considered that Eddie would become one of the greatest pianists Australia had produced since Percy Grainger.
They were soon engaged by the famous Canadian impresario Frederick Shipman, who managed the tours of such stars as the Australian soprano Dame Nellie Melba and the Austrian violinist Fritz Kreisler. He planned an unprecedented tour by Western classical musicians of India and the Southeast Asia…..