All photos on this site by

P
iotr Droździk
I will complete all my competition reviews for the record (especially the pianists) in due course. There were so many and the music so new to me it is a massively time-consuming task. During the competition itself I scarcely had time to breathe or eat.
Please just return to this site every few days for updates
Competition Results of Category I (piano)
1st prize – 20,000 euros – Pavel Dombrovsky (Russia)
2nd prize – 10,000 euros – Piotr Ryszard Pawlak (Poland)
3rd prize – 5,000 euros – Mateusz Krzyżowski (Poland)
Three equivalent awards of EUR 1,500:
Ivan Shemchuk (Ukraine)
Tymoteusz Bies (Poland)
Michal Dziewior (Poland)
Competition Results of Category II (Chamber Music)
1st prize – 20,000 euros – Gidaszewska / Łaguniak Duo (Poland)
2nd prize – 10,000 euros – Cracow Golden Quintet (Poland)
2nd prize – 10,000 euros – Ãtma Quartet (Poland)
Third prize – EUR 5,000 – not awarded
Three equivalent awards of EUR 1,500:
Apeiron Trio (Poland)
Novi Piano Duo (Poland)
Roksana Kwaśnikowska / Łukasz Chrzęszczyk (Poland)
The awards were presented during the Winners' Concert on September 27 at 7:00 pm at the Podkarpackie Philharmonic, Rzeszów. The performers of the concert were the Symphony Orchestra of the Podkarpackie Philharmonic Artur Malawski in Rzeszów under the direction of Jerzy Salwarowski and Tomasz Chmiel and of course the winners of the piano category of the Competition.
The winners' concert was repeated on September 29 at the National Philharmonic in Warsaw at 6pm.
I  agree with the decisions of both juries except for not awarding a Third Prize  in the Chamber Music. I imagine there are great difficulties establishing common musical criteria to judge the musical quality of the different types of chamber groups – piano duos, piano and flute duos, piano and violin duos, trios, quartets, quintets. It was an unusual decision for me having listened to everything. I can only think of the many deserving musicians I heard.
*  *  *  *  *  *
The following pianists have qualified for the Final Stage of Category I (piano).
The Symphony Orchestra of the Artur Malawski Podkarpacka Philharmonic
in Rzeszów
conducted by
Jerzy Salwarowsky
Ivan Shemchuk (Ukraine)
Ivan Shemchuk chose to play the Paderewski Piano Concerto in A minor Op. 17. Paderewski was only 28 when he composed this concerto and was scarcely known as a musical figure. He had made extensive studies with Theodor Leschetizky and in 1888, the year of its composition, he made his debut in Paris and Vienna. He wrote in his Memoirs:
When I finished [the] concerto, I was still lacking in experience. I had not even heard it performed—it was something I was longing for. I wanted to have the opinion then of a really great orchestral composer. I needed it. So without further thought I took my score and went directly to Saint-Saëns. But I was rather timid … I realised on second thoughts that it was, perhaps, presumption on my part to go to him. Still I went to his house nevertheless. I was so anxious for his opinion. He opened the door himself. 'Oh, Paderewski, it's you. Come in,' he said. 'Come in. What do you want?' I realised even before he spoke that he was in a great hurry and irritable, probably writing something as usual and not wanting to be interrupted. 'What can I do for you? What do you want?' I hesitated what to answer. I knew he was annoyed. I had come at the wrong moment … 'I came to ask your opinion about my piano concerto,' I said very timidly. 'I ——.' 'My dear Paderewski,' he cried, 'I have not the time. I cannot talk to you today. I cannot.' He took a few steps impatiently about the room. 'Well, you are here so I suppose I must receive you. Let me hear your concerto. Will you play it for me?' He took the score and read it as I played. He listened very attentively. At the Andante he stopped me, saying, 'What a delightful Andante! Will you kindly repeat that?' I repeated it. I began to feel encouraged. He was interested. Finally he said, 'There is nothing to be changed. You may play it whenever you like. It will please the people. It's quite ready. You needn't be afraid of it, I assure you.' So the interview turned out very happily after all, and he sent me off with high hopes and renewed courage. At that moment in my career, his assurance that the concerto was ready made me feel a certain faith in my work that I might not have had then. (The Paderewski Memoirs  London 1939 p. 149-50)
This talented pianist being Ukrainian was perhaps disadvantaged in not being as familiar with this work as his Polish contemporaries. I felt the tempo he chose for the Allegro was rather too slow for the strong and noble Polish nationalist flavour that is announced at the beginning in the theme. He would have been more impressive in a more panoramic and rhapsodic sweeping line at a faster tempo for the movement. This meant the feeling was excessively deliberate without the important forward momentum the movement requires.
The Romanza: Andante was also taken at a pace that reduced the ardent simplicity of the harmonies here – one of my favourite piano concerto movements from the second half of the nineteenth century. It reminds me of a superb film score for say an intensely romantic French love affair set in Provence directed by Francois Truffaut. In our imaginations we could be bowling along a poplar-lined route secondaire past hills of vineyards with Catherine Deneuve or Stephane Audran in the passenger seat of a Chapron Citroen cabriolet. Her hair is wonderfully awry in the wind as we head through rolling sunlit pastures towards une belle gentilhommiere and nights of sophisticated sensual bliss, days of cultivated tastes, food and wine.  Ah…what we have lost of true civilization and culture in 2019…Paderewski had it all.
I am afraid this performance somewhat muted the idyllic picture which rises from the best accounts. The orchestral ensemble and conducting left a great deal to be desired as the conductor did not make any eye or even musical contact with the young soloist, even as a gesture of reassurance during movements. The Allegro molto vivace did not quite imbue the dance rhythms with sufficient stylish energy and driving tempo.
Tymoteusz Bies (Polska)
Tymoteusz Bies chose to play the Variations on a Theme of Paganini for piano and orchestra by Witold Lutosławski. Originally this was composed for two pianos. The premiere of the piece was performed in 1941, the same year as its composition by Lutosławski himself together with Andrzej Panufnik at the Aria Cafe in Nazi-occupied Warsaw. Lutosławski earned his living and supported his mother through piano playing at cafes such as Art and Fashion and Aria. Many concerts at that time were held in secret in private homes.
The chamber version involves witty exchanges between the two pianos.  In the version for orchestra and piano we heard, this type of internal dialogue is less clear. However Lutosławski was able to indulge his rich imagination for colour and orchestral texture. The orchestration was composed in 1977-78 and dedicated to the pianist Felicja Blumental. It was premiered in 18th November 1979 by the Florida Philharmonic Orchestra with Felicja Blumental as soloist.
I do not know this work well but Bies dominated the unfortunate orchestral proceedings with his formidable musical talent in spectacular fashion. He gave total emotional commitment to this complex and dense work. One objection was I felt as that the orchestra was dynamically out of balance and often synchronization with him (such a common fault in performances of many piano concerti with many orchestras elsewhere too). They dynamically covered the technical pyrotechnics he was engaging in at the keyboard. I could scarcely hear him for long enough to judge much concerning his interpretation of the work, at least from my position in the hall.
Michal Dziewior (Polska)
Michal Dziewior is an excellent musician as we have seen from his solo competition performances. This was a far more satisfying Paderewski Piano Concerto in A minor Op. 17. The tempo adopted was appropriate from the outset, set to inspire this excellent pianist to the heights he would naturally aspire to as a Pole playing patriotic Polish music.
I felt he played the opening Allegro with great authority and idiomatic grasp as well as commitment. He clearly understood both Paderewski and the often rhapsodic nature of the concerto in this expressive and nuanced performance. His tone and touch were clearly cultivated and refined. There was always a motivic feeling in his phrasing of moving forward. The orchestra and conductor also seemed slightly happier at this tempo, although again the conductor did not engage at all with the soloist musically which I feel is unfortunate considering the inexperience of these young talents in playing with full orchestral forces. There were rather too many musical solecisms among the orchestral players. The need for more rehearsal time is often a pressure in piano or violin competition finals.
The Romanza: Andante possessed just the right degree of sentiment and poetry, never veering into the mawkish or sentimental into which this movement can all too easily fall prey. It was not quite intense enough for me in its yearning for love, but that may simply be personal taste. The Allegro molto vivace revealed what a commanding technique this pianist possesses. He dispatched this movement with great emotional excitement,  élan and panache.
Madame Essipoff, the famous pianist and Leschetizky's wife at that time said that 'as she had introduced some of his (Paderewski's) compositions already in Vienna, she would like to do this concerto too.' She had been studying it for some time and Paderewski  'glad to have her do it, because I had not studied the concerto sufficiently for a great public performance.' Paderewski dedicated the work to the great Polish pedagogue and pianist Theodor Leschetizky, and the first performance was conducted by the legendary and renowned conductor Hans Richter and had 'an immediate success'.
Paderewski at 24 – a close likeness to his appearance during the writing of the concerto
Mateusz Krzyżowski (Polska)
The Symphony Orchestra of the Artur Malawski Podkarpacka Philharmonic
in Rzeszów
conducted by Tomasz Chmiel
The Symphony No.4 Op.60 (Symphonie concertante)  by Karol Szymanowski for piano and orchestra (dedicated to Arthur Rubinstein) was composed in only four months in the Spring of 1932. It is en effet a piano concerto and only later was termed a symphony. He wrote letter to Zofia Kochańska on 9 November 1932:
'I started writing a piano concerto (but at present it's a great secret). […] I don't even know if this concerto is good or bad music, I am writing it without any of that self-criticism which is always so implacable. It just seems to be easy and pleasant to write (regardless of the fact that it might turn out to be a horrible piece of kitsch). […] I think I'll have finished this piano concerto by the summer, at least in draft, and will slowly start the instrumentation…'
But later to the same correspondent
 'it seem as if, together with the Conservatory, I have been freed from some chains which had been binding me so far, and I am now working on this concert with the greatest ease and willingness (again, please keep it a total secret that this is a concert – you could say this is the Fourth Symphony) and, notabene, I have a feeling that it will be a first-class little piece…'
On 27 September he wrote to  Stanisław Wiechowicz:
'That Fourth Symphony its really almost a concerto, fortunately not too difficult so perhaps I will manage to play it not too badly…'
Szymanowski was not a professional pianist and made compromises in the piano part. He augmented the role of the orchestra to evolve as a brilliant addition to the piano rather than more conventionally remain in dialogue with it. He called it a Symphonie concertante but it essentially remains a piano concerto.
It is in three 'movements' with a lyrical and poetic middle movement and an exuberant Polish dance finale. The work is striking and contains unique orchestral writing, colours and textures. The work is optimistic, cheerful and bright and does not inhabit the dark caverns of philosophy or drama. At this time Szymanowski was attempting to escape various reversals in his professional life and ill health.
The first part of the work (Moderato), was described by the composer as "very cheerful, almost merry". Certainly Mateusz Krzyżowski embraced the varied tempi, lively expressiveness and almost humorous contrasts and capriciousness with great abandon and evident pleasure. There was great charm here and a feeling for the civilized pleasures of life, perhaps even jazz.
The slow second movement (Andante molto sostenuto) appears to inhabit an almost dreamworld of expressiveness and what one might call 'impressionistic lyricism' suffuses a supremely beautiful melody. Krzyżowski made much of this, although I felt the orchestra thorough their conductor could have been rather more restrained and allowed the piano to sound transparently more often, rather than submerge it in an excessive symphonic dynamic.
The final third part (Allegro non troppo) which enters attacca, is a terrific stylisation of the Polish fiery oberek dance. The composer makes extensive use of percussion and bass drum. The theme highlights strong  rhythms rather than melodies (perhaps memories of his ballet score Harnasie). However a melodic kernel is introduced which grows inexorably in strength. A lyrical and melodic Polish kujawiak dance appears. Krzyżowski seemed to enjoy this danced aspect of the work a great deal and his enthusiasm communicated itself strongly to the rather young audience. He remained self-confident within the score and clearly knows its intricacies and complexity, colours and rhythms, nuances, and triumphs intimately. He has mastered and moulded them into a personal and coherent vision of he work. The so-called 'great oberek' returns on the strings to the accompaniment of the entire orchestra and piano. Here the joyous energy reached an intense and brilliant expression and conclusion.
Szymanowski felt the Symphonie concertante  was one of his best works which is hardly surprising given its inventive expressiveness in color, timbre and orchestral virtuosity (not obvious here). It is a spectacular and emotional work and should be performed more often as a piano concerto in masquerade, if the strongly positive emotional reception Krzyżowski received at the conclusion is any indication.
Eryk Parchański (Polska)
He chose to play the Ignacy Jan Paderewski Fantaisie polonaise sur des thèmes originaux in G sharp minor, Op. 19. In many ways this was an excellent competition choice, superior perhaps to the more familiar Piano Concerto. The work was composed and in 1893 and premiered during a festival in Norwich on October 4th that year. The soloist was Paderewski himself, and the orchestra was conducted by Alberto Randegger. Two years later, in June 1895 the piece was played for the first time in Warsaw during one of the concerts in the Dolina Szwajcarska / Swiss Valley garden. It was played by Henryk Melcer, the orchestra conducted by Zygmunt Noskowski.
Next to the Piano Concert in A Minor, this Fantasy is recognized as one of the most popular works in Polish piano literature. Paderewski repeatedly played this piece during his tours through various parts of the world. In 1895, after his concerts in New York and Philadelphia critics from important newspapers emphasized that the composition not only evoked Polish folklore, but was also a symbol of the whole nation, reminding everybody about its existence. A critic from the Philadelphia Inquirer wrote:
You can still hear the voice of the dwellers of the beautiful Polish lands. They dance no to the beat of the serious minuet, they are not dressed in lace and silk, they do not bend in courtly bows, and they do not exchange courtesies either. They are clad in peasant clothes, the hard day's toil is over, the violin plays, and they spin, sway, and glide in jumps, skilfully stamping their feet to the beat of the music, which expresses their simple and modest joys. […] There is a melody which emanates sorrow in the slow passage. For the listener it feels like a requiem for the composer's homeland's dead past, a requiem for its bygone glory." (Quote from Andrzej Piber "Droga do sławy. Ignacy Paderewski w latach 1860-1902", Państwowy Instytut Wydawniczy, Warszawa 1982, p. 281.)
The performance was straightforward and idiomatic with a firm understanding of Polish folk dances (although no direct quotations the rhythmic quotations are there). His use of the pedal seemed to agree with Paderewski's own opinion but I sometimes questioned his use of it on pianos of today rather than the ones the composer was accustomed to using. Paderewski's opinion on the importance of studying the pedal alone is described in his Memoirs:
The pedal is the strongest factor in musical expression at the piano, because first of all it is the only means prolonging the sound. […] I repeat, it is the principal factor in expression because it adds to the volume and the duration of the sound. It requires a great study, a special study when trying to produce a real effect with it. In a way it is a science, the use of the pedal. […] You must know it perfectly to be the master of the keyboard. Its importance cannot be overestimated.  
Although this pianist has great, at times decidedly impressive, virtuosic 'technical' command of the keyboard at such an extraordinarily young age, I felt he lacked sufficient emotional expressiveness which was not assisted by the whimsical nature of the orchestral playing (woodwinds sometimes uncertain, flutes rather loud, French horn sometimes unpredictable) which led to occasional musical solecisms of synchronicity. Again I felt the soloist/orchestral balance overwhelmed the piano part too often. The tempo selected was too deliberate for the mercurial play of imagination contained in this Fantasia. The pianist might well 'blossom' if given more rehearsal time with the orchestra.
Adam Piórkowski (Polska)
In the Final he chose to play the Karol Szymanowski Symphony No. 4, Op. 60 (Symphonie concertante). For the complex gestation and description of this work do read my entry for Mateusz Krzyżowski above.
In previous stages of the competition I had noticed with the greatest pleasure the refined and luminous tone as well as restrained touch Adam Piórkowski produces on the piano. He was very sparing in his use of the pedal in the opening Moderato which gave the piece a gentle ambiance he could work on later and develop. Unfortunately we soon began to lose him under the orchestral dynamic weight.
In the Andante molto sostenuto his captivating tone was much in evidence as he cultivated the mysterious dream nature of the piano writing. I feel he captured the sense of foreboding that is contained within this movement. It was unfortunate that the orchestra sounded too like a military band at certain moments. I am almost certain Szymanowski had not intended them to be so dynamically forward but perhaps I am wrong. Piórkowski brought a strong yet restrained atmospheric tension to the movement with the colours of his refined sound palette. The bass drum was so prominent, it gave this part of the work a definite "American Indians on the Warpath" distinction to Szymanowski. In the Allegro non troppo, ma agitato ad ausioso Piórkowski was certainly exciting to watch – pity we could not hear his achievements more clearly.
Piotr Ryszard Pawlak (Polska)
The Symphony Orchestra of the Artur Malawski Podkarpacka Philharmonic
in Rzeszów
conducted by Tomasz Chmiel
In the Final round, this highly talented pianist chose to play another adventurous and rarely heard work, the Grażyna Bacewicz Piano Concerto. This concerto (1949) received 2nd prize (the 1st was not granted) in the Frédéric Chopin Competition for Composers organised by the Polish Composers' Union in Warsaw. Her violin concertos are far more familiar and I had never heard this work before.
It is in three movements. In the Allegro moderato, Pawlak was very authoritative and I always marvel at how this young man can commit to memory the complex works I have heard him play in this competition – the Godowsky Passacaglia  and the Gorecki Sonata No. 1. He will surely be highly placed in the results. The Andante gave Pawlak the opportunity to exercise his deep expressive grasp of music (it should not be forgotten he won the XI Darmstadt International Chopin Piano Competition 6 – 16 October 2017). The Molto allegro was filled with tremendous excitement and was full of emotional commitment on his part.
Pavel Dombrovsky (Rosja)
He chose the Ignacy Jan Paderewski Piano Concerto in A minor, Op. 17.  Please read above my notes on Ivan Shemchuk and Michal Dziewior for information on the gestation of this work.
I felt his approach to the Allegro was significantly mature and showed a rich control of tone, touch and command of the keyboard. However in this movement I felt a slight lack of what one might term, the 'Paderewski idiom'. It is hard to describe what this is in language exactly but it is more feeling for the Polish style, rhythm, emphasis and possibly rubato. The Paderewski character of the movement, as I perceive it, was slightly absent. The cadenza however was sensitive, virtuosic and deeply impressive.
The Romanze. Andante  on the other hand was luminous in tone, velvet in touch, highly sensitive, lyrical and simply beautiful in an intensely romantic sense. His phrasing and control was movingly expressive, the eloquent silences deeply affecting. Everything I hoped for in this movement, so dear to my heart, was present. In the Finale. Allegro molto vivace again I felt like the other finalists he was hampered and inhibited by the uneven and dynamically unbalanced orchestral playing. However overall it was a commanding, splendid, driven and energetic  conclusion to a fine performance.  
                *  *  *  *  *
Just to say I have no substantial argument with any of the choices made here apart from a couple of minor reservations.
The following Chamber Ensembles have qualified for the Final Stage of Category II (Chamber music)
The competition website is a mine of detailed information on composers as well as the programmes and biography of participants. You may wish to follow up and read further on the performers and composers when reading of my highlights and feelings below.
POLISH COMPOSERS:  http://www.konkursmuzykipolskiej.pl/en/composers-and-works
PARTICIPANT PROGRAMMES AND BIOGRAPHIES CATEGORY II (Chamber Works):
http://www.konkursmuzykipolskiej.pl/en/home-en/participants-category-ii
Septem Quintet
Andriuti-Shemchuk Piano Duo
Unfortunately time considerations simply did not permit me to attend the above Quintet and Piano Duo in Stage II. However, my Stage I assessment of this outstanding Duo is available and the Septem Quintet will be in due course.
Ãtma Quartet
I was only able to attend the final part of their much anticipated recital due to time considerations. I liked their refinement and ensemble sound a great deal in the first stage of the competition.
The opening of the Karol Szymanowski String Quartet No. 2, Op. 56 Moderato  dolce e tranquillo  was subtle and superb – a type of hushed rustling of the soul. Energy suffused the Vivace scherzando in a particularly stylish manner. The sense of ensemble is so strong with this exceptional quartet and their common communication so close, committed and engaging. This was obvious in the Lento ‒ Doppio movimento ‒ Moderato, tranquillo. The violin cantilena was especially moving and beautifully poised which led to the gradual building of agitation in this marvelous movement until its powerful and triumphal conclusion.
 Cracow Golden Quintet
I truly hope the jury have the critical judgement and criteria to realize that this wind quintet is a world class ensemble that could be proud to grace any Deutsche Grammophon label. They are a spectacular group of professional orchestral virtuoso soloists who have magically forged an intimate bond of musical understanding.
In the Grażyna Bacewicz Wind Quintet, the Allegro revealed the inner cohesion of this extraordinary blend of instruments. Every instrument manages to exchange subtle and endlessly varied dynamic, attack, articulation, timbre, colour and tone quality in a highly entertaining musical 'conversation'. The Air. Andante revealed the most perfect intonation in French horn playing I have ever heard. The other winds oscillated around him like planets around the sun. The Allegretto  threw easy melodies from one to another with ease and virtuosity. The Vivo betrayed incredibly skillful exchanges without blemish or one wrong note (none in their first recital either). The movement also revealed a wonderful sense of humour which seems to cloak this quintet, radiating such a strong 'feel good' atmosphere towards the audience.
Then onto another Polish composer unknown to me, Tadeusz Paciorkiewicz and his Wind Quintet. Again the Allegro revealed this perfect wind ensemble that are completely instrumentally secure as an integrated group. In the Lento  a beguiling solo oboe floats above all the other instruments except the silent flute. The dynamics of each instrument on entry matched and blended impeccably. The immaculate horn in the  Allegro scherzando (e molto rustico) provided a type of 'rustic drone' over a polyphonic accompaniment from the other soloists.
Finally a Polish composer I know well, Wojciech Kilar and his Quintet for flute, oboe, clarinet, bassoon and horn (his chamber works are not so well known). The Sinfonia I found perfectly integrated and stylish. The opening flourish for the Scherzo was an experience in sheer sound I shall not forget. The whole movement emerged as such fun! The 'pumping bassoon' really presented this scherzo as an authentic 'joke' unlike those of Chopin. There were what can only be described as 'waterfalls of notes' between instruments. The whole movement was delightfully witty and humorous. In the Chorale variée I felt the bassoon 'talking' to the other instrumentalist in that she physically turned to them with a musical statement and they answered. The Rondo‒Finale possessed irresistible forward momentum. It is so clear that each player is a virtuoso soloist engaged in a musical conversation with others. The clarinetist was superb with a most brilliant type of Benny Goodman diving jazz flourish at one point. Yes the movement was like a joyful mountain stream with trout bounding upstream.
Cuore Piano Trio
I so enjoyed the intimate emotional connection of their first stage performance I looked forward very much to Stage II. They began with a most delightful period piece, the Ignacy Feliks Dobrzyński Piano Trio in A minor, Op. 17. Of course this composer was a fellow pupil of Chopin and they shared Elsner as a teacher. I suppose he is condemned to be forever living in the shadow of his great compatriot but better than utter anonymity after death. He was a significant Polish composer in his own right – opera, cantata, chamber music, symphonies, a lovely piano concerto….In 1835, he won second prize in a composition competition for his Symphony No. 2 in C Minor, Op. 15. This symphony was later called "Symphony in the Characteristic Spirit of Polish Music" and movements were conducted by Mendelssohn. His music contains the innate 'Polishness' we all celebrate. The I. Allegro moderato we heard was full of stylish enchantment. The trio have an excellent understanding of period charm and style. The pianist in particular has the fingers, touch, tone and understanding of the Hummel derived styl brillant, so vital to this work. All the players form a finely matched ensemble instrumentally and temperamentally.
Onto yet another Polish composer that Michael, as 'a foreigner', is not at all familiar. The Artur Malawski Piano Trio. The impressionistic conclusion to the Lento – Allegro moderato was most impressive in terms of dynamic control and colour. In the Andante sostenuto the solo piano obbligato was profoundly moving in this rather melancholic movement. The theme is intensely introverted and sensitive, a true examination of the psychic centre of this work. It is imbued with an immense sense of loss and grief which this trio understood deeply as they react on such an emotional level to each other. Remarkable. This was followed by the passionate agitation of the Scherzo‒Allegro molto. The Rondo–Vivace is a complex abstraction requiring perceptive musicianship to present coherently. There is an atmosphere of emotional dislocation and disorientation here. The internal kernel of human disillusionment goes through various transformations until it ultimately reaches a resolution.
This was a deeply satisfying concert on the spiritual and emotional level which I hope does not escape the jury.
Effimero Duo
I appreciated their Stage I and so looked forward to Stage II.
Overall I found this stage significantly superior to Stage I. They opened with the fine chamber composition by  Ignacy Jan Paderewski, the Sonata in A minor for violin and piano, Op. 13. The    Allegro con fantasia has such an ardent, deeply felt theme given to the violin. Here it was played with love and emotional penetration which betrayed itself through the superb tone and intimate ensemble playing with the pianist. The Intermezzo. Andantino has long, exquisitely beautiful phrases. The violinist's phrasing was movingly eloquent and her tone has a purity not simple to achieve. In the Finale. Allegro molto quasi presto there was an eruption of exuberant spirits which simply confirmed the characteristically Polish melodic gift given to Paderewski. A curious wildness embedded or hidden in the civilized externals,  clearer of course in the world before the Great War. I felt this performance by the excellent pianist and violinist had style, panache and refined taste. What more can one ask of a Paderewski performance?
Then to the Karol Szymanowski Nocturne and Tarantella for violin and piano, Op. 28. I have been told this is a favorite work of violinists, but have ever heard it in all my concert-going years in London. The Nocturne  is at once haunting and possessed of a a cloak of ominous predestination. I felt an 'Oriental' quality to the harmonies, or even 'Moorish' or perhaps 'Sarmatian'. I thought I heard a disguised reference in a dreamed transformation of the Chopin Tarantella, but perhaps this was only in my imagination.
So did the spider bite the victim during this night so pregnant with shades and ghosts? Ah yes, a story did unfold in the music. The Szymanowski Tarantella has a fantastically difficult piano part with the violin pizzicato. The work is replete with so many colours and rhythms as the poison of the tarantula spider works its way into the human organism to do its devastating work. Such a musical description can never have been achieved with this degree of intensity as death approaches inevitably. Wilder and wilder as the work approaches its climacteric of  a type of Liebestod. I cannot believe Szymanowski was approaching this composition simply as 'programme music'. Deeper human physical, psychic and metaphysical dimensions abound….
A carefully imagined programme of significantly contrasting periods of Polish music that gave deep musical satisfaction to this listener at least.
 Eufonico Duo
I have not yet had the time during this intense competition schedule to post my notes on their Stage I, but looking back over them now I immensely enjoyed the passionate embrace of their Noskowski Sonata in A minor. But to Stage II if you do not object to me leaping ahead.
They began with the popular Karol Szymanowski Sonata in D minor for violin and piano, Op. 9. This work was first performed in Warsaw by two renowned musicians, the violinist Paweł Kochański and pianist Artur Rubinstein, on 3rd April 1909. It is the work of a young man but his unique voice is already manifest. He dedicated it to his school friend  Bronisław Gromadzki who was an amateur violinist. The Allegro moderato was played in an affectingly expressive and intense manner. .  There were two themes: the virtuoso element increasing expressively to con passione, and a  lyrical, dolcissimo, which at times had the qualities of a dream. The Andantino tranquillo e dolce is the beating heart of this work. The Duo were intensely  lyrical and explored contrasting colours and timbres with the violin pizzicato and the piano staccato.
The authority on the music of Szymanowski Tadeusz A. Zieliński wrote of this work:
'…as such it must be the greatest instrumental work of Szymanowski's early period. Only [its] unfamiliarity to musicians accounts for the fact that this wonderful 'poem' in A major did not become a famous and favourite item in violinists' repertoires'.
The Finale. Allegro molto, quasi presto supported some fine and remarkable rhapsodic themes. The phrasing of this violinist and pianist was both sensitive and passionate, which made this virtuoso ensemble absolutely captivating. Szymanowski himself was eventually able to describe the Sonata as "a thing popular in every aspect."
Then the Lullaby (La berceuse d'Aïtacho Enia) for violin and piano, Op. 52 which I always find hauntingly dreamlike like dusk settling over the earth under the velvet wings of a giant moth. The duo painted this subtle landscape with great insight and musicianship.
I was unfamiliar with the next work also, the Aleksander Tansman Cinq Pièces for violin and piano. The Toccata was highly rhythmic as one might have expected, with occasional reminiscences of the original function of the toccata as an instrumental exploratory device and then as a separate compositional genre. The high violin cantilena of Chanson et boîte à musique was insightfully performed by the Duo as a type of emotional plea. The Mouvement perpétuel emerged as exactly that with clever virtuosity in the pizzicato violin dialogue with the piano. The Aria is a truly beautiful song, an extensive expressive cantilena for the violin which moved one in a way that only true art is able. Heavenly in a word. The Basso ostinato precipitously removed us from this dream to what at times sounded like an Irish dance to me, bordering on a jazzy take on a folk tune. A curious contrast.
Gidaszewska/Łaguniak Duo
In a similar way I have not yet had the time during this intense competition schedule to post my notes on their Stage I. However, looking back over them now I was rather overwhelmed by the overt expression of emotional intimacy between these two violinists. This unique and sensitive musical engagement once seen can never be forgotten. Both emerged as inspired players who use what might be termed 'para-musical' human psychological understanding, the notion of a love bond that we all share, to deepen the musical performance laid before us. This unapologetic, almost theatrical intimacy on stage, is deeply affecting, taking us into a deeper dimension, a different realm of musical appreciation.
They began with the Grażyna Bacewicz Suite for two violins. There are a number of brief movements which I shall not attempt to describe here in detail. Allegro, Andante, Vivo,     Tempo di menuetto, Allegro, Andante. Fughetta, Allegro. This is accessible and pleasant Bacewicz (not the 'dark night of the soul'), the musical texture satisfyingly like an modern recreation of an 18th century dance suite. The extreme intimacy and symbiotic communication  between these two players makes them appear before us as a single organism. The effect is quite uncanny and most rewarding on many levels, both psychological and musical.
The beautiful ball gown worn by Marta Gidaszewska was reminiscent of a lady from a Watteau painting as were the seductive gestures and attempts to woo her on occasion by Robert Łaguniak. Is this fancy just part of my Romantic imagination? Does it actually matter since it is so highly enjoyable ? All this gave the Duo Concertant in E flat major for two violins, Op. 10 No. 2 by the early 19th century Polish composer Joachim Kaczkowski a certain je ne sais quoi. The Allegro embraced an enchantingly intimate love theme which they 'danced' in perfect synchronization as superb virtuoso violinists. The Andante un poco allegretto gave us the most ardent violin playing imaginable. One was, without exaggeration, carried away 'On Wings of Song'. Again in the Finale. Presto they appear to move as one organism in a type of dance movement that is wonderful to behold and even more to listen to as there was such a high degree of 'conversation' musical exchange in this movement. All one could feel was a wave of innocent joy in these two violinists being together.
Perhaps this was the reason I wondered why they decided to finish their concert with the Tadeusz Paciorkiewicz Sonatina for two violins. I had never heard this work before and the composer is unknown to me although he was eminent in Poland (d.1998). An injection of modern, late Romantic realism into the past dream worlds they had created ?
The Allegro con spirito was attractive in a late-Romantic style of music if you are partial to that sort of thing. The Andante gave me the impression of the poetic yearning  of unrequited love with some romantic agitation.
I must confess to asking what this music is trying to say and did not come up with a completely satisfactory answer. However the two violinists helped me. They gave more than sufficient musical meaning in their deeply communicative interaction. One of their great strengths is the rare ability to make contemporary classical music  meaningful, understandable and accessible in feeling. Too often this is not the case in modern performance. It was astonishing to watch this remarkable musical symbiosis. I found the content rather abstract even if passionate and wondered why they concluded on such an emotionally introspective note.
As I said in the beginning, the appearance of these two virtuoso instrumentalists is an unforgettable experience in one's musical life.
Apeiron Trio
They began with the Aleksander Tansman Trio No. 2 for piano, violin and cello. The work has a rather lugubrious opening Introduction e Allegro which is suddenly torn apart by a burst of furious energy. This sudden explosion suits this particular trio as compared to other groups I feel they have a muscular, robust even on occasion athletic manner of playing which suits many modern compositions admirably. The Andante espressivo ‒ Allegro deciso features pizzicato on the violin and cello and staccato on the piano. The trio were most skillful in creating a particular atmosphere as an ensemble in this regard. The deciso is rather like a firework display with this Trio. This is followed by a Scherzo. Allegro vivace which spins like Catherine wheels (a firework that rotates when lit). The Arioso. Adagio quasi largo was movingly expressive with the trio, depicting an alluring cantilena which increases in intensity over time.  However in the Finale. Allegro moderato ma ben ritmato their adoption of a similar, even unremitting, dynamic does not maintain our interest. There surely should be variety and relief from this concentration on the physical. I also felt there could have been more variation in timbre and expressiveness in this movement. However I did not have the score before me so cannot verify if this is what the composer actually desired!
Then onto the Andrzej Panufnik Piano Trio. The opening Poco adagio ‒ Allegro – Poco adagio on the piano put me in mind of a Jewish lament which was taken up and transformed by the violin and cello. I was unavoidably put in mind of the conflagration in Poland during WW II. There is such profound sorrow expressed in these Adagios that frame the violent inner Allegro.  A frequent pattern in modern compositions concerned with war. The Largo gave the violinist another opportunity for poetic diction in this beautiful cantilena with supporting  'heartbeat' repetitions on the piano. The cello provided an accurate counterpoint of reminiscence with violin and cello in creative unison.
The Presto caused me to ask myself some questions. Is this movement an expression of Panufnik's personal emotions ? Highly likely. What would I be expected to identify with or recognize as a familiar human emotion in that case? Unfortunately I have no authentic idea. The movement is tremendously inventive but what is the musical meaning here? Perhaps a logical positivist philosopher such as Wittgenstein would prove that asking such a question is linguistically  meaningless in itself, such as posing the question 'What is the meaning of life?' No answer can be given as a Truth Table will prove the question cannot be asked.
Roksana Kwaśnikowska / Łukasz Chrzęszczyk
I have not yet had the time during this intense competition schedule to post my notes on their Stage I, but looking back over them now I immensely enjoyed the passionate embrace of their Noskowski Sonata in A minor is well as their Mozartian Elsner Sonata in F major Op.10 No.1. But now to Stage II if you do not object to me leaping ahead. 
They began with the Karol Szymanowski Lullaby (La berceuse d'Aïtacho Enia) for violin and piano, Op. 52. The violinist plays with outstanding refinement and delicacy. As she played this sweet 'song of innocence' I began to feel something ominous in the rocking motion of the Lullaby. there is a melody here, and an affecting one. However I could not help feeling that Szmanowsky has depicted the shadow of inevitable death hovering over the tiny one in its cradle. The violinist gave an ultra-pianissimo conclusion to the work.
Then to Myths. Three Poems for violin and piano, Op. 30.
I. The Fountain of Arethusa
The Fountain of Arethusa is a natural fountain on the island of Ortygia in the historical centre of the city of Syracuse in Sicily. According to Greek mythology, the fresh water fountain is the place where the nymph Arethusa, the patron figure of ancient Syracuse, returned to earth's surface after escaping from her undersea home in Arcadia.
On the piano the impressionistic effect of water agitated by a zephyr called up the appropriate images, above which floated the haunting and lyrically beautiful violin cantilena, one of the most eloquent melodies Szymanowski ever wrote. The violinist is a fine, passionate player who expressively depicted the nymph and her travails as did the pianist provide  a suitably trembling aqueous medium.
    II. Narcissus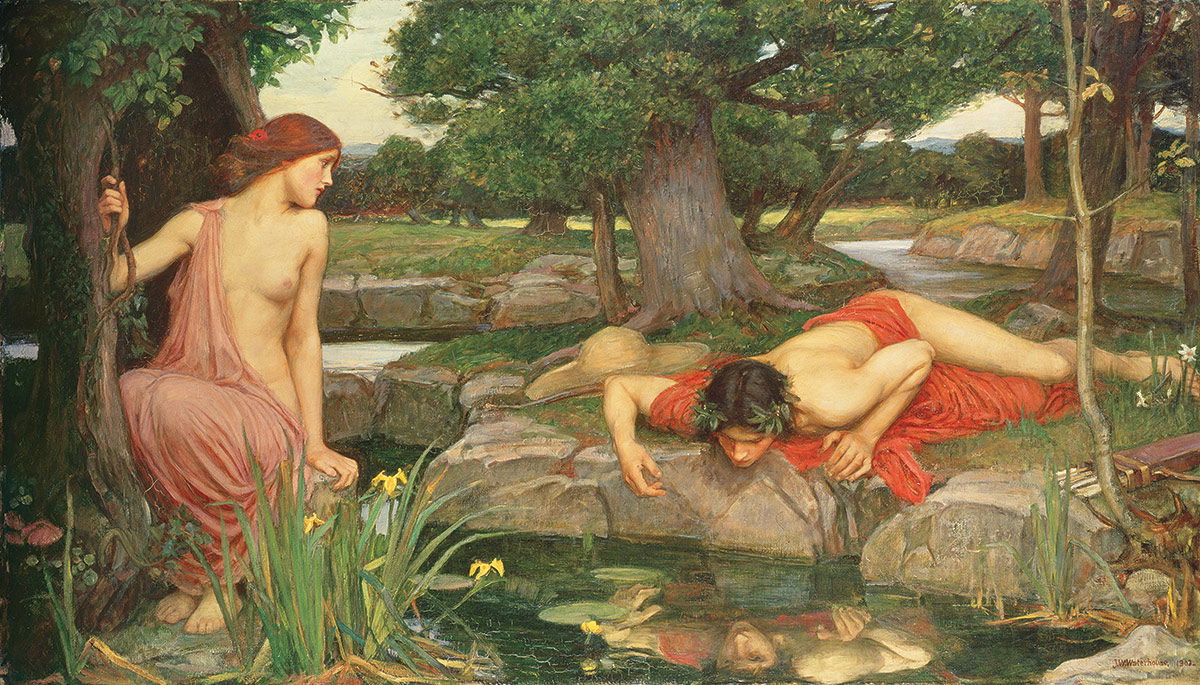 Narcissus stares at his reflection, while his rejected suitor, Echo, looks on. The son of the river god Cephissus and the naiad, or nymph, Liriope, it was said that Narcissus would live to old age, if he never looked at himself. He had gained many female admirers, entranced by his beauty, but he rejected them all. One of them, Echo, was so upset by his rejection that she withdrew from the world to waste away. All that was left of her was a whisper. It was heard by the goddess Nemesis, who, in response, made Narcissus fall in love with his own reflection, at which he stared until he died. A narcissus flowered in his absence. The story of Echo and Narcissus is best known from book three of Ovid's Metamorphoses. [History Today]
The violin, in a dreamy cantilena on the violin, perhaps representing Echo, seemed to me to be yearning for the unattainable love of Narcissus. This then seemed to be transformed into a romantic involvement with himself depicted on the violin with the piano creating the water of the pool. Then disaster is upon him as he gazes at his own reflection after being forbidden to do do.
III. Dryads and Pan
The god Pan lasciviously chases the wood nymphs. The refinement and seductiveness of the Greek God was perfectly captured by this sensitive violinist. Hypnotic writing by Szymanowski that imitates Pan's flute with harmonics. Pan a mercurial and whimsical creature emerges in this work. Short 'flying phrases' depict him. The duo used a significant variation in dynamics, colour and penetration of sound. There are a number of unusual sounds extracted from the violin in this work which  were expressively used here – playing with and without the mute, two-note trills, tremolos, glissandi, artificial and natural harmonics, left hand pizzicati and quarter tones. Music of the most subtle sensuality.
The Witold Lutosławski Lullaby 'for Anne-Sophie' for violin and piano was a performance of extreme sensitivity and deeply affecting. How does one describe this extraordinary unearthly music in mere words?
In his Partita for violin and piano  the opening Allegro giusto was exactly that, strict observance of the allegro. The piano was percussive and the violin very agitated. A mixture of extreme violence and lyricism reigns in this movement. I felt this enormously talented violinist has compete command of the difficult Lutosławski idiom. Arresting violin and piano echoes contrasted with violent spasms in this acutely challenging work for both partners of the duo, especially the violinist. Supremely expressive playing. The Ad libitum had moments when the violin and piano imitated each other quite humorously. The work became almost rhapsodic at times with an atmosphere of ominous intent. Such a range of moods, colours, timbres. tempi and attack were explored by these versatile musicians I was in awe.
In the Largo I again began to ask myself one more 'What does this music mean?' or is this question inappropriate, as our logical positivist friends Wittgenstein or A.J.Ayer might have observed? The Ad libitum and Presto seemed fused together towards the conclusion and I must confess to having lost track. However, itwas always clear to me that was a triumphant, revelatory performance of a fiendishly complex and difficult work. Not only did this gifted duo need to penetrate the musical meaning and implications but also learn the work.  For a Lutosławski novice like myself to listen attentively and derive musical meaning from the panorama of kaleidoscopic sound, was no easy task.
MOS-duo
This outstanding duo began with the Aleksander Tansman Sonatina for flute and piano. Such a fine piece I had never heard before.
I was tremendously impressed with the virtuosity and artistry of their opening performance in Stage 1. This continued into this final. The Modéré opening movement was expressive and subtly nuanced. I have noticed his immaculate and remarkable embouchure. The Intermezzo. Andantino cantabile was graced with an alluring lyricism with seamless legato on the flute and ravishing tone. The rhythm of the Scherzo (Fox-trot). Allegro risoluto was highly entertaining as one noticed 'the dancing flautist'. One cannot help reflecting on what a fine virtuoso on the flute he is and the marvelous co-ordination of these two instrumentalists in interpreting the amusing Fox-trot. The Notturno. Lento was a superb flute solo, as if Iaroshevskii was singing on the flute. I was able to concentrate on his timbre which I found so rich and varied in colour and texture. He has astonishing breath control, phrasing and embouchure as this night ecstasy progressed. I found their approach to the Finale. Allegro grazioso surprisingly gentle and refined with a remarkable variety of dynamics and entrancing phrasing which was movingly expressive. 
Then Tadeusz Szeligowski Sonata for flute and piano. The Allegro moderato contained some wonderful flute arabesques and marvelous themes. I observed tremendous authority in this playing and a perfect détaché and vibrato. When playing legato the sound is like liquid gold if you will forgive the hyperbole. An affectingly expressive concluding phrase to this movement. The Andante cantabile gave him an opportunity to 'sing' once again. Here we had beguiling pianissimos and a hypnotic  beauty in the diminuendos. The Allegro con brio allowed them to demonstrate their perceptive musical phrasing and close co-operation. He revealed even more virtuosity in effortless double and triple tonguing in some phrases. the playing became as transparent as glass. Quite brilliant. The virtuosic Molto vivace movement was dispatched without a blemish, the piano accompaniment balanced dynamically and discreet. Spectacular flute playing with double notes, trills…the entire arsenal.
What a Duo this is!  In perfect synchronization for the Wojciech Kilar Sonatina for flute and piano. In the Allegro molto  it was clear they could be immensely imaginative and yet the piano never intruded as it does far too often in chamber music. In the Andante con moto again his embouchure was unsurpassed and the result was a seductive love song of Pan. The sound envelope he creates is all embracing. In this movement the sensitivity of the pianist not to disturb in any way the flute 'singing' above, was of tantamount concern. The Rondo Allegro had an infectious  bouncing, buoyant rhythm. This was stunning and breathtaking music. The piano and flute balance was perfect. Then to an inspiring half-tempo decelerando, a return to life with effortless virtuosity from both instruments. I only hope the judges have the knowledge of the flute to recognize what a spectacular concert had just been performed.
Novi Piano Duo
The began with a truly delightful piece, the Juliusz Zarębski Divertissement à la polonaise. Deux morceaux sur des motifs nationaux for piano for four hands, Op. 12 No. 1 Andante This would have been so suitable for playing at home by pianist members of the family. What intimacy in family life we have lost with the isolationist iPhone and the cheap thrills of computer games!
Then the Ignacy Jan Paderewski Tatra-Album for piano for four hands, Op. 12 This is a fascinating group of variegated. descriptive but not too serious pieces which they perform quite idiomatically. They could easily have served a similar domestic entertainment purpose to the Divertissement above
No. 1 Allegro con brio What a catchy dancing tune! English I wonder ?
No. 2 Andantino molto espressivo pleasant and rather lyrical reminiscent of alpine      pastures
No. 3 Allegro con moto Perhaps a trifle simplistic
No. 4 Allegro maestoso. Vivace grazioso They gave it an infectious rhythm and the Vivace grazioso is delightful and charming
No. 5 Allegretto. Andantino Again the themes are a trifle bucolic and simplistic
No. 6 Allegro ma non troppo Rather a spectacular ending.
The Fryderyk Chopin Rondo in C major for two pianos [Op. 73] was finely balanced between the two pianos with a command of the styl brillant, of vital importance in the performance of the Chopin Rondo. They made no attempt to drown us in sound which must have been tempting. For my taste it was not quite stylish enough….
Finally the Witold Lutosławski Variations on a Theme by Paganini for two pianos.
The premiere of the piece was performed in the same year as its composition in 1941 by Lutosławski himself together with Andrzej Panufnik at the Aria Cafe in Nazi-occupied Warsaw. Lutosławski earned his living and supported his mother through piano playing at cafes such as Art and Fashion and Aria. Many concerts at that time were held in secret in those dark years in private homes.
The chamber version involves witty exchanges between the two pianos and I looked for some humour here. However I felt they approached the work purely as a virtuoso exercise rather than a true dialogue between pianists and instruments. This made the work marginally less effective in performance.
Paulina Bujok & Joanna Sochacka Duo 
They began with the Grażyna Bacewicz Sonata No. 4 for violin and piano. For this work she won 1st prize at the Polish Music Festival in 1949. The Moderato has a rather lugubrious atmosphere followed by emotional agitation. However I found the shifting moods of this composition rather depressing as life in Poland certainly must have been under the Soviets immediately following the conflagration. There was a subtle conclusion with the resolution. The piano opened the Andante ma non troppo. I found great refinement and delicacy in the Bujok violin playing. This is a particularly meditative and introverted movement. Paulina Bujok was the only instrumentalist who tried to make eye contact with the audience and involve them with her performance. The Scherzo. Molto vivo  was witty from the outset – a true 'joke' in the running figuration on the piano and a pizzicato and piano staccato dialogue.
The duo performed this movement with grace, élan and panache. So many passionate phrases emerge from this duo and Bacewicz seems to create robust, possibly even bohemian, reminiscences of the Warsaw café and cabaret society before the war in the Finale. Con passione. This leads up to a tremendously dramatic coda and climax to the work.
Then onto the  Karol Szymanowski Sonata in D minor for violin and piano, Op. 9. I must say I admired the beautiful tone and perfect intonation this violinist extracts from her fine instrument. There was great variety of dynamics, timbre and expressive, nuanced phrasing in their interpretation. 
In the Allegro moderato, patetico  the melody is a deeply affecting yearning – an aching heart in the throes of unrequited passion. Well so it speaks to me emotionally. Szymanowski appears to willfully embrace rather abrupt changes of mood from violence to lyricism and back again, like the swing of a giant emotional pendulum, 'human, all to human' as Nietzche may have remarked of such a free spirit as was Szymanowski.
In the Andantino tranquillo the piano opened lyrically with a subtly touched introduction. There is a quite superb cantilena which I found both alluring and seductive. Violin pizzicato and piano staccato dialogue rises. It seemed I was watching a lark ascending into the azure. The association with beautiful birds seemed irresistible to me with a sound envelope so rich in color. The piano gave rhapsodic support while the violin inhabited the endless blue above. Such gentle and tender music this is which closed with a refined pizzicato/staccato. The Allegro molto, quasi presto bursts over us passionately with echoes of fin de siécle Vienna. I found great emotional connection between the two members of this rather recently formed duo. The movement rises passionately to a climax with the return of the rhapsodic theme. Again a ravishing cantilena which is so romantic in this movement.
Polish Art Duo
The Aleksander Tansman Sonatina for flute and piano has a rather pastoral Modéré opening. Rather light in texture which seems to betray the influence of the Javanese gamelan orchestra. In the Intermezzo. Andantino cantabile the duo showed a lovely control of the line of melody.
Scherzo (Fox-trot). Allegro risoluto. I like this movement a great deal with its nostalgia for ballroom dancing. The Notturno. Lento  takes us on a walk through a forest at night perhaps to a river bank (piano repetitions). The passions of the night begin to build. In immense contrast the Finale. Allegro grazioso seems a gracious wandering through summer fields in a state of innocent love sunflowers, insects, birdsong and sunshine.
Bolesław Woytowicz Sonata for flute and piano Lyrical arabesques on the flute in the Allegro are interrupted as so often in contemporary compositions by neurotic agitation . The Andantino alla canzona seems to me a lovelorn song by a wanderer through the dark and gloomy forest. Again a suitable contrast of a flourish to conclude the song. The piano and violin echoed each other so skillfully it demonstrated the intimate musical relationship they have built. The Vivo is a very jolly and humourous antidote to the emotionally serious Andantino. The filigree ornamentation by the duo was aesthetically and musically so satisfying and a welcome contrast in tone colour. After sincere reflection w return to the bubbling enthusiasms of life. The passage work by the duo runs like a waterfall to its ultimate resolution.
I expected to have some trouble understanding musically what Piotr Perkowski was intending in his Sonata for flute and piano. The Allegro molto was certainly in accordance with this indication – very Allegro and very molto. It was attractive in an abstract sense, but again I kept asking myself 'What does mean musically exactly? What is the composer saying or confirming about human nature? Is this a valid question about music anyway as it reaches so deeply into the subconscious?' With earlier classical music even up to as recently as the titanic compositions of Olivier Messiaen, one could relate emotionally to what was composed – bird song, the Catholic religion. For me it is four note phrase simply given inventive and imaginative expansion.
The Lento seem to place me in a floating almost zen state, like lying on one's back in the summer grass and watching clouds drifting across an azure sky. The duo showed great refinement in their playing here. The Presto produced in me an image of children playing recklessly in a playground. There were most unusual sound abstractions here, perhaps fully intended, as if one was shaking a musical kaleidoscope. There is a theme here which was transformed so artistically by this duo but to what musical purpose? The rhythmic interest was substantial here and the work closed with an effective flourish.
Together with their first stage, a most impressive duo who acquitted themselves with fervor, vividness and verve.
Quartetto Nero

I so enjoyed hearing the warm embracing timbre and colour palette of a Moniuszko Quartet (No. 1 in D minor) played on period instruments in Stage I, I looked forward to this concert.
They began with Moniuszko once again, the String Quartet No. 2 in F major. In the Allegro  moderato I once again reflected how warm and embracing is the sound for Moniuszko on period instruments. They played well as an ensemble, highlighting counterpoint and even a fugal interlude, very effectively. The Andante I discovered had dark and rather 'operatic' theme. There is great charm in the playing of this quartet – they stand clustered around the resonant cello like bees feeding at a blossom – which pleasure communicates itself to the audience. The Scherzo. Allegretto (Baccanale monacale) had a delightful and infectious rhythm to which the quartet appeared to rise to the occasion and dance as an ensemble.  The Finale. Allegro is rather an anti-climax musically speaking, well for me anyway, so no significant emotion there.
Then to the Grażyna Bacewicz String Quartet No. 1 (composed in 1938 when she was a youthful 28 and the baleful shadow of war was approaching Europe inexorably). The Moderato – Più mosso had a precipitous beginning in a wild rhythm. I found it rather challenging to relate to as the rhythmic structure was complex. It was basically a series of interludes with different rhythmic, structural and tonal characteristics. The anachronistically titled second movement, Tema con variazioni, reminded me almost of film music – and none the worse for that. The variations were inventive but some are exceedingly mournful.  Others were rather spirited and the quartet with their inherent vibrancy and ability to inspire each other, made much of it. In the Vivo the quartet were certainly enjoying themselves.
Overall however I did not feel that Stage II was as impressive and coherent in ensemble and sound as Stage I. The timbre, tone colours and professionalism were present but a slight intonation uncertainty seemed to have curiously appeared and security seemed ever so slightly threatened. Such a mystery…
Chamber Ensembles 22 September 2019
I cannot possibly cover every work and every chamber group in detail so I will present some highlights of Stage I for me. The competition website is a mine of detailed information on composers as well as the programmes and biography of participants. You may wish to follow up individuals when reading of my highlights and feelings.
POLISH COMPOSERS:  http://www.konkursmuzykipolskiej.pl/en/composers-and-works
PARTICIPANT PROGRAMMES AND BIOGRAPHIES CATEGORY II:
http://www.konkursmuzykipolskiej.pl/en/home-en/participants-category-ii
The TRIO LONTANO first of all performed the Franciszek Lessel Trio in E major for piano, violin and cello, Op. 5. This was the first time I heard this marvellous piece which I was to hear a few more times during the day. The Allegro brillante has a charming theme as Lessel has such a melodic gift. I felt it could have been a little more expressive. The Rêve. Adagio has the cantilena on the violin soaring above the pizzicato cello. This engaging theme could also have been treated rather more expressively I felt but  in the end it is personal taste. The Rondo. Allegro di molto came off well.
The ANDRIUTI-SHEMCHUK PIANO DUO were a particularly attractive combination. They introduced me to the Juliusz Zarębski Divertissement à la polonaise for piano for four hands, Op. 12 No. 1 which is rather an energetic piece bubbling over with Polish panache. I also was ignorant of the Ignacy Feliks Dobrzyński Rondo alla polacca Op. 6 for piano for four hands which is a charming and extensive piece that would benefit greatly from an authentic style brillant performance. It was given a normal virtuoso rendition here but I felt the approach could have been lighter and more glittering in the style of Hummel.  The Stanisław Moniuszko Contredanses for piano for four hands were attractive, charming and infectious dance pieces that would have fitted so well on a festive evening in the ballroom of a grand Dwor  in the Polish countryside. The G minor with variations most appealed to me melodically.
    in F major [1st]
    in F major [2nd]
    in A major
    in C major
    in G minor
    in D major
The ARTERIA STRING QUARTET introduced me to the fine Stanisław Moniuszko String Quartet No. 1 in D minor. Played by such excellent ensemble musicians, this emerges as a fine work of high musical quality. there was much 'conversational' musical exchange between the players. The Stefan Kisielewski String Quartet was also unknown to me and opened with a spirited Allegro moderato. The Adagio was as mournful as I anticipated but the Tempo di gavotte and Presto con fuoco lifted the mood considerably especially with the catchy tune that begins on the cello.
The ÃTMA QUARTET played the Franciszek Lessel String Quartet No. 8 in B flat major, Op. 19 with tremendous emotional commitment. They have a fine ensemble sound and authoritative penetration. The Lessel with them was as full of charm and civilized refinement as always. The ensemble were harmonious both emotionally and temperamentally. The Stanisław Moniuszko String Quartet No. 1 in D minor opened with a lyrically treated main theme Allegro agitato. They play with a subtle approach and creative use of silence, as important in music as sound. The Andantino has a charming theme bordering on the seriously lyrical. The Scherzo was very lively and melodic with infectious rhythm and pauses in this dance. This was an excellent movement by the quartet in terms of energy. In the Finale. Allegro assai (Un ballo campestre) Moniuszko gives the cello a rather rustic timbre and the quartet a rather bucolic, country dance ambiance. The quartet captured this with verve and energy to give an excellent conclusion go the work. It was clear to me that this work by Moniuszko, performed by high quality musicians, should enter the predominant chamber music repertoire.
The spectacular appearance of the CRACOW GOLDEN QUINTET was for me one of the great highlights of this competition so far. The first aspect to notice is the remarkable choice of instruments – French horn, oboe, clarinet, flute and bassoon. They began with a work I was again ignorant of by Michał Spisak the Quintet for flute, oboe, clarinet, bassoon and horn. The Allegro moderato was extraordinarily lively with this mixture of instruments in animated  'conversation'. The  Andante more reflective and the Andante‒Allegro a highly entertaining virtuoso effort by these outstanding orchestral musicians who have decided to band together.
The unfamiliar Tadeusz Szeligowski Wind Quintet was equally spectacular in the opening Allegro con brio – the control of timbre and unerring mixture of instrumental dialogue gave a remarkable texture to the sound palette. The Andante cantabile was dominated by the lyrical oboe which was utterly convincing and beautiful even though the musical material was highly abstract. A unique blend of musical sound. The Allegro scherzando opened with the bassoon decorated with a woodwind filigree – I can describe it in no other way. A melody of sorts appeared and was thrown about in a highly humorous fashion. Delightful. The final Allegro moderato reminded me of some type of high quality music you might hear behind a Walt Disney cartoon, but this did not diminish its compositional quality. The entire concert was such unique, deeply professional and high quality entertainment it astounded me.
I found the CUORE PIANO TRIO an intensely musical group with a particularly close emotional and musical connection in performance.  The Franciszek Lessel Trio in E major for piano, violin and cello, Op. 5 had a decidedly festive and engaging Allegro brillante opening. I adore this theme that sings with no emotional complications, just celebrating the joy of life. In their approach or interpretation of the second movement, the beautifully titled Rêve. Adagio emerged with a character quite different to others we have heard so far. The cantilena  on the violin was deeply affecting as were the remarkable exchanges with the cello pizzicato. In the Rondo. Allegro di molto they adopted an inspiring tempo which imbued the movement with an irresistible inner life – the pianist so light and stylish. The trio showed intimate internal musical communication throughout and for me were stylistically perfect in this movement. Lessel has become a favourite composer of mine mainly through the exuberant Piano Concerto in C major Op. 14 . It is such a treat for me to encounter his chamber music at such a high level of musicianship.
We then moved on to the Ludomir Różycki Rhapsody for piano, violin and cello, Op. 33.  I find the opening to this work rather Oriental or perhaps even Sarmatian in character. The trio presented an authentically rhapsodic approach to the work with this fine violin cantilena joining with the cellist in an inspiring  musical symbiosis. The conclusion was 'rhapsodic' in a profoundly moving and emotionally exciting sense. What a great undiscovered work (for me) this is!
Another definite high point for my particularly emotionally engaged fin de siècle temperament was the performance of the DUET KATARZYNA BĄKOWSKA, KATARZYNA NOWACZEWSKA-MANTHEY.
My belief in the recondite worlds hidden within the harmonies of critically so-called 'miniatures' or 'small forms' was validated in this truly wonderful concert. The Polish composer Roman Statkowski is completely unknown to me. I found his Three Mazurkas for violin and piano, Op. 8 full of the civilized charm of a more caring age of sensibility and moving emotions that touched the heart. No. 1 in G minor was an enchanting piece. The pizzicato opening of No. 2 in F major is the personification of charm and civilized emotion. This violinist is a fine instrumentalist, an artist and deeply sensitive musician but I could not help reflecting what a Heifetz or Kreisler might have made of these beguiling works. No. 3 in A minor seemed to me to deal with the melancholic reversals of life, the price we inevitably pay for the experience of joy and ecstasy. However after an emotionally agitated central section we do return to life and begin again with an optimistic outlook. A marvelous work.
Then the Romance for violin and piano, Op. 17 No. 1. The profound tristesse  and lyricism contained in this heartbreaking cantilena brought me to the point of tears. Truly the 'song of an angel' if that does not sound too trite. Certainly at the same level of inspiration or higher as similar tender emotional expressions by Wieniawski. The violinist used such discreet portamenti to carry one on this journey of sentimental education. The small audience and jury in the hall were utterly silent at the conclusion and one could feel the tangible atmosphere of love. Yes 'you could hear a pin drop'.
As an immediate and fitting contrast to lift is from this 'Anatomy of Melancholy', the Zygmunt Noskowski Caprice à la bourrée for violin and piano, Op. 24 No. 3. The contrast of inherent life, vitality and vivacity – the other side of the coin to an all too human sadness we had just experienced. Then the Melody for violin and piano, Op. 21 No. 1. Again we were transported into a world of heavenly sentiment, true lyrical emotion by a divine cantabile  of heart-breaking beauty. How is it that such works have fallen into obscurity? It is scarcely to be believed. The Leopold Godowski Waltz in D major No. 8 from Twelve Impressions for violin and piano is also a remarkable discovery for me. I was unaware Godowsky wrote any violin and piano works. It had a wonderful pre-war 'period feel', even humour as the waltz accelerates as all waltzes tend to do! The piano part, as might be imagined, appeared demanding as one might realize with Godowsky. To conclude the Artur Malawski Burlesque for violin and piano which brought us back, reluctantly in my case, to a more abstract modern sensibility.
This extraordinary acutely musical duo and in particular the sensitive and emotionally committed violinist, gave us some forgotten Polish gems from a superior age of heartfelt sensibility and sentiment and I for one am deeply grateful.
The DUO ARAE presented a fascinating programme of unashamedly modern work. The Bolesław Woytowicz Sonata for flute and piano which was particularly well performed, has a modern idiom Allegro that for me as music does not contain a great deal of emotion.  The Andantino alla canzona was lyrical and beautiful under the control of this fine flautist. The Vivo is a difficult movement for both piano and flute. They captured the whimsicality of its shifting moods well. I am not familiar with the music of Piotr Perkowski but was told by the flautist that the Intermezzo (Romantic Sonnet) for flute and piano was premiered in 1977 by Prof. Elżbieta Gajewska-Gadzina-flute and Prof. Szábolcs Esztényi-piano at the Polish Radio Studio in Warsaw. The performers played this piece from the autograph manuscript which was rather exciting and unique inmy experience. In 2012 Eufonium in Gdansk published this piece, edited by prof. E. Gajewska-Gadzina.

The EFFIMERO DUO played the Józef Elsner Sonata in E flat major for violin and piano, Op. 10 No. 3. The Allegro was classical in style but the composition did not possess the classical refinement that reminds one of Mozart sometimes. The  Andantino con variazoni did not reveal any particularly interesting variations on Elsner's part. It was very pleasant undemanding music of the period.
They then chose to play, for me entirely unknown, Maurycy Moszkowski Quatre morceaux for violin and piano, Op. 82. Les Nymphes was was charm and civilization personified. However, as with many of the young musicians in this competition, I felt the cultural context needed to be further explored to bring additional depth to the interpretation.
If you read Arthur Rubinstein's autobiography My Young Years you will discover an extraordinarily deep experience of cafe society and bohemian life in Paris before the Great War. There is a connection between the depth of his playing and his life experience, the filter through which he instinctively judges how music should be interpreted.
Caprice begins with a strikingly long period of unaccompanied violin before the piano joins.  Mélodie is enchanting salon music but for me none the worse for that. Salons were often gatherings of serious intellectuals and the music was never considered trivial., but decorative n the highest aesthetic sense. These artists acquitted themselves with taste and refinement. Humoresque has quite a complex piano part which is hardly surprising with Moszkowski. The pianist mastered this with great virtuosity and style, the sine qua non  of Moszkowski interpretation surely.
The EUFONICO DUO had gone to some trouble to dress in matching outfits which was much appreciated by the small audience. The work by Piotr Perkowski for violin and piano was dedicated To Szymanowski. A rather lugubrious piece of music.
Then a remarkable piece by Zygmunt Noskowski, the Sonata in A minor for violin and piano. The Allegro con brio has a slow melancholic opening with such yearning in the theme. Such a high degree and range of emotional development is contained in this rhapsodic music. The duo have an intense emotional connection when expressing the many eloquent themes contained in the work. Molto andante con variazioni has such a refined, civilized theme to develop but it is the always the emotional heart that is so moving, the appeal to the sensibility. These artists understand this rare quality. The piano has a strong role in this set of variations and the pianist acquitted himself brilliantly. The duo were artistically so poignantly poised at the conclusion. The Prestissimo is bursting with brilliant, passionate music, irresistible drive with even a brief Fugal section. There are inspiring sprung rhythms here and a tumultuous, emotional conclusion. Such a great piece of music played by such talented artists.
The LAGUNIAK DUO began with a suite by Michał Spisak, the Suite for two violins. One immediately notices the sensitive and charmingly intimate contact between these two fine violinists. The Allegro was impassioned and impressive. In the Tranquillo they produced an unearthly sound (with mutes?) which for me was reminiscent of the other-worldliness of that extraordinary instrument, the Ondes Martenot. The Largo (Choral nr 1) was disturbingly intense emotionally whilst the Adagio (Choral nr 2) emerged as a fragile plea and emphasized the intimate musical connection between these two extraordinary performers. The Scherzando. Vivo was a theatrical and highly engaging movement played simultaneously pizzicato. An Andante (Recitativo) movement followed by the final Allegro energico (Finale), This bordered on the histrionic but I gave myself over to its wildness without demur. This appeared as a sensual love duet and none the worse for that!
The Joachim Kaczkowski Duo Concertant in F minor for two violins, Op. 10 No. 1 revealed these violinists as superb virtuoso players. In the Allegro moderato their 'conversation' and exchange of voices was deeply affecting. Beautifully matched phrasing graced the Poco adagio quasi andante and the loving eye contact they expressed throughout this movement was poignant and touching, even to the extent of appearing to breathe together as one organism. An uncanny and unique symbiosis to experience as a member of the audience. One could not escape the idea of a 'love bond'. The Allegro revealed them as consummate professionals and fabulous violinists. I am not at all surprised at the many prizes and awards they have garnered and I predict another!
The APEIRON TRIO first approached one of my favourite, rather overtly 'nationalistic' Polish composers, Henryk Melcer-Szczawiński and his Piano Trio in G minor, Op. 2. The Moderato‒Allegro is as opulent and rhythmical as one of my favourite piano concertos by Melcer, No. 1 in E Minor (notable particularly for its thrilling finale which is marked by its strong Polish character: starting as a mazurka, the accelerando through the movement increases the excitement of the piece, giving it the frenzy of a kujawiak or oberek). This trio is unashamedly nationalistic triumphalist music with straightforward themes and a substantial piano part that characterizes the Melcer rhetoric. The Andante con moto has a lovely theme which develops into magnificent culminations. In this trio it is so clear that Melcer thinks orchestrally and the Apeiron Trio with their muscular playing rose robustly to the challenge.
Next another rather 'masculine' work, the Ludomir Różycki Rhapsody for piano, violin and cello, Op. 33. I must admit I found the violin bordered on being harsh in his tremendous emotional commitment. A tremendously engaged and passionate interpretation of this powerful work – full-blooded and 'red in tooth and claw' concluding in triumphalist rhapsody.
ROKSANA KWAŚNIKOWSKA / ŁUKASZ CHRZĘSZCZYK chose a rather fine chamber piece by Józef Elsner, his Sonata in F major for violin and piano, Op. 10 No. 1. I found the Allegro rather Mozartian in its simplicity with a pleasant theme on the this fine violinist. The development is rather predictable as Elsner was nothing if not conservative in his chamber compositions. The Andante has pleasant if undemanding lyricism.
Next a real musical discovery of a Polish composer with whom I am becoming more enamoured with each new work I encounter from him. Zygmunt Noskowski Sonata in A minor for violin and piano. The  Allegro con brio movement has a passionate and energetic opening which develops into into a genuinely rhapsodic and opulent work. It has so many lovely affecting themes leading to a tremendous conclusion. I appreciated the musicality of both of these artists. The Prestissimo also opens dramatically with a fantastic tarantella. This is a truly great theme full furious energy at the tempo the Trio adopted. There were many dramatic pauses and a fugal section. A fine performance of light flight that concluded powerfully.
The MOS-DUO chose a modern composer and work Bolesław Woytowicz the Sonata for flute and piano. The Allegro was interesting in an abstract way with a these of sorts to give it coherence. The Andantino alla canzona was rather 'abstractly pastoral' if I may be allowed to use my imagination. Like gazing at an abstract expressionist painting on the wall of a bank. The Vivo movement was technically and musically challenging for both pianist and violinist. A very whimsical movement in its shifting moods. I always find it difficult to actually say what I might 'enjoy' in this music. Clearly a virtuoso work performed extremely well by the duo, but…
Then the Ignacy Feliks Dobrzyński Andante e rondo alla polacca for flute and piano, Op. 42.  The theme is particularly lyrical and has true period charm. The Rondo is an elegant and spirited piece which revealed some superb flute playing in this duo. The section in the minor key is an affecting contrast. The timbre, embouchure, legato and phrasing as well as the sheer purity of sound was remarkable. It was as if the instruemntalist was singing on the flute – so glorious a sound. The piano was in the appropriate styl brillant  originally derived from Hummel yet remained discreet and perfectly balanced in dynamic with the flautist. A perfectly captivating piece of music that made no intellectual demands.
                                                                                MOS-DUO
SECOND STAGE AUDITIONS CATEGORY I (Piano)
Ivan Shemchuk (Ukraina)
I was of course familiar by now with Juliusz Zarębski's masterpiece, the Piano Quintet Op. 34 (1885) mainly through the the first performances I heard with Martha Argerich in Warsaw some years ago now. Shemchuk opened his Stage II recital with the Juliusz Zarębski Les roses et les épines (Roses and Thorns) Op. 13. First of all a little about the composer. The prominent Polish musicologist Zdzisław Jachimecki wrote that Zarębski's numerous piano compositions are a continuation of Chopin's style in terms of instrumental technique and the character of harmonic writing. The young composer, however, also developed the kind of devices that constitute the foundation of present-day French music; he sensed the exotic character of Debussy's whole-tone scale and his harmonies based on that scale. With his compositional concepts Zarębski indeed was ahead of his time. The trail-blazing nature of his technique was also praised by another outstanding authority on music, Józef W. Reiss. He wrote: Juliusz Zarębski's compositions contributed so many new elements to music and on account of the boldness of technique were so much ahead of their time, not only in our country but on a broader European scene, that they could not have won instant popularity. […] A Romantic by nature, Juliusz Zarębski became a representative of radicalism in music. […] Zarębski employed techniques which were to be introduced into music by French impressionists, notably Claude Debussy.
I was completely unfamiliar with the work Shemchyuk selected. Roses and Thorns Op. 13 (original title Les Roses et les Épines. I quote: '[The work] is among Zarębski's showcase compositions and his most important creative achievements. It is a cycle of five piano miniatures. The roses and thorns of the title do not refer to any extra-musical content but to the general truth about the experience of love in which moments of disappointment and doubt usually occur alongside moments of sensuous rapture. The subtitle Cinq improvisations underlines the character of poetic transience of these atmospheric pieces which communicate the dynamic nature of feelings by means of highly refined devices. The inner cohesion of the work is achieved through the use of original tonality and harmonies, as well as the principle of expressive contrast in juxtaposing the work's successive parts. Throughout the whole cycle, the composer gives prominence to timbre, to which other elements, including dynamics and articulation, are subordinated. Several original timbral ideas, meticulously planned and executed, testify to Zarębski's mastery in differentiating sound and evoking a diverse palette of moods and colours. Roses and Thorns anticipates musical impressionism. (BeArTon notes). I found the work extraordinarily impressive and impressionistic, inhabiting the shades and seductive shadows of a fraught poetic romance – as the title indicates.
    Andante con moto
    Presto con fuoco
    Andante con moto
    Allegro molto (quasi presto)

    Allegretto moderato
Antoni Kątski
Esquisse mélodique sur la romance Rappele-toi op. 99
Artur Malawski
Mountaineers' Triptych
Anna Szałucka (Polska)
Daniel Ziomko (Polska)
Szymon Atys (Polska)
Tymoteusz Bies (Polska)
Pavel Dombrovsky (Rosja)
Andrii Dorofeiev (Ukraina)
Michal Dziewior (Polska)
Rozalia Kierc (Polska)
Mateusz Krzyżowski (Polska)
Ewelina Panocha (Polska)
Eryk Parchański (Polska)
Piotr Ryszard Pawlak (Polska)
Adam Piórkowski (Polska)
Report on Saturday 21st September 2019
Although much Polish virtuoso piano music was known in Western countries before the Great War (Moszkowski, Godowski, some Szymanowski) detailed knowledge of this repertoire was rather restricted by the lack of independence of the Polish state until after 1918. Polish chamber works were scarcely ever performed outside Poland. The fact that Ignacy Jan Paderewski was also a fine composer, as well as pianist and statesman, was unknown except by the cognoscenti until fairly recently. Performances of say his piano concerto were few and far between.
Paderewski is such an underestimated composer of affecting lyrical and poetic piano music which speaks directly to the heart and sensibility rather than burdening the intellect with high seriousness. As an example of relieving humour, at the Paris Peace Conference Georges Clemenceau (the 'old Tiger') came up to Paderewski and wickedly asked 'Are you a cousin of the famous pianist Paderewski?' When Paderewski replied 'It is I, Monsieur le Président,' Clemenceau observed, acting as if greatly surprised 'And you the famous artist have become Prime Minister? What a come-down!'
Ignorance of his opera Manru in the West as operas such as Halka by the father of Polish opera, Stanisław Moniuszko (1819-1872), was almost total. Manru has only been revived quite recently in Warsaw.
After the devastation of World War II, Poland being the theatre of that catastrophe, ignorance in the West persisted under the Soviet hegemony. The imaginative notion of an 'Iron Curtain' that divided Europe was created by Winston Churchill in a speech at Fulton, Missouri, on 5 March 1946. One forgets that it evolved as a cultural as well as political and military barrier. However after the death of Stalin, Polish composers began to be influenced by developments in Western music such as twelve-tone composition, serialism and pointillism. The 'polnische Schule', or Polish School of composition evolved from these influences. Also in tandem with these compositional influences,  the full panalopy of past Polish composers and their compositions began to be revealed by scholarly research both in Poland and abroad as politically motivated restrictions to libraries and source material largely disappeared.
This initiative of this competition is twofold. First of all it offers generous prizes and opportunities for those musicians, both Polish and 'foreign', who are willing to spend time and dedication discovering and learning forgotten Polish music. Secondly, through the media, it will hopefully make music lovers outside Poland aware of obscure or seldom performed works by known Polish composers as well as forgotten gems by complete unknowns.
One important observation is that one really has to seriously consider the first stage as a triumph of the 'small form'. In the concert world we inhabit at present, 'small forms' are regarded with a certain disdain. This was certainly not the case when many of the Polish composers, especially for the piano, were writing fine pieces as 'small forms' as we see them. Each small piece can contain within it an entire world of musical significance. One reason the Chopin Preludes are usually now performed as an integrated cycle is that together they comprise a grand form which satisfies everyone. In Chopin's own time this would never have been considered. At that time they were most likely to have be been scattered through an entire programme like diamond dust. Both approaches are justifiable if one eschews historicism.
Many 'small forms' became the staple of encores by virtuoso pianists such as Horowitz which in a way does them an injustice. So the first stage of this competition contained many of these gems which one would not want to miss. Later stages of the piano section will expand to sonatas and larger works as is normal in competitions of this type. So in our voyage of discovery the first stage is as important a discovery arena as any other stage.
I cannot possibly cover every piece and every pianist today so I will present some highlights of Stage I for me. The competition website is a mine of detailed information on composers as well as the programmes and biography of participants. You may wish to follow up individuals when reading of my highlights and feelings.
POLISH COMPOSERS:  http://www.konkursmuzykipolskiej.pl/en/composers-and-works
PARTICIPANT PROGRAMMES AND BIOGRAPHIES CATEGORY I: http://www.konkursmuzykipolskiej.pl/en/home-en/participants-category-i
IVAN SHEMCHUK
The Ukrainian IVAN SHEMCHUK was the only participant to choose a charming piece by the composer Zygmunt Stojowski Chant d'amour op. 26 nr 3. Also the extraordinary composer of genius now undergoing a true renaissance, Grażyna Bacewicz Study No. 5 from Ten Studies by him was most impressive. The Witold Lutosławski Study No. 1 from Two Studies  was performed by many participants. There is such an explosion of energy in this vibrant work and an exceptional level of virtuosity is required to bring it off convincingly. He was also the only pianist to choose a work by Ignacy Friedman Tabatière à musique op. 33 nr 3. This is a superb period piece as is the Stojowski, but one that requires a particular 'period sensibility' to convince which was rather absent here.
DANIEL ZIOMKO
The Pole DANIEL ZIOMKO gave us a beautiful and affecting rendering of the Ignacy Jan Paderewski Mélodie in G flat major, Op. 16 No. 2. I also liked the improvisatory style he brought to the substantial and brilliant composition by Karol Szymanowski, the Study in E flat minor, Op. 4 No. 1. Although familiar the Maurycy Moszkowski Étincelles. Allegro scherzando Op. 36 No. 6 was delightfully light and airy with Ziomko with scarcely any pedal.
SZYMON ATYS
Although the playing of SZYMON ATYS was rather variable in quality for me, one modern piece he chose was impressive and fascinating. This was the lyrical, thought provoking and emotionally disturbing Andrzej Panufnik Pentasonata in four movements. I had never heard the work before.
    Allegretto scherzoso, molto ritmico
    Andante amoroso, molto cantabile
    Contemplativo, molto rubato
    Andantino amoroso, molto cantabile
    Allegretto scherzoso, molto ritmico
TYMOTEUSZ BIES
One of the finest recitals today was by that developing poet of the piano, TYMOTEUSZ BIES. When I first heard him in Chopin, Beethoven and Szymanowski at the Duszniki Zdroj Festival in August 2018 I wrote:
He opened his short recital with a delicate Chopin Berceuse performed with finesse and affecting nuance.  
I felt  the Beethoven Piano Sonata in C minor Op. 111 rather an ambitious choice for  a young spirit. However I need not have worried. This was a remarkably satisfying performance in appropriate classical style, in perfect tempo with a finely controlled an affecting Arietta. I really could not fault this account that only now requires the personal and musical maturity of the inevitable passing years.
[…]
Finally the Karol Szymanowski Variations in B-flat minor Op. 3. Again this was impressively idiomatic with a clear understanding of the composer's intentions. Fresh, inventive and expressive. The composition is in the late Romantic style, reminiscent of Schumann and Liszt. The variations are virtuosic and demonstrate the young Szymanowski's complete understanding of the piano as an instrument. Such a contrast to his later piano music in almost every way, at least for this listener. Loved the work and this performance of it. A young pianist already building an enviable reputation and far further to go.
The Ignacy Jan Paderewski Mélodie in G flat major, Op. 16 No. 2 by Bies was the finest, most expressive and poetic by far today. An excellent Polonaise in B flat major, Op. 9 No. 6. which showed complete understanding of the genre – the idiom of the Polish polonaise dance with its nobility and emphasis on the noble Polish male with his expressive moustache and his sabre, constantly adjusted ostentatiously in rhythm of the dance.  As expected the Karol Szymanowski Study in E flat minor, Op. 4 No. 1 was rhapsodic with velvet touch and tone. The Juliusz Zarębski Etude de concert in G major, Op. 3 was vividly brought off with superb articulation, style and panache. One of the few Chopin Etudes played that convinced me of its true character was the Bies Fryderyk Chopin Etude in F major, Op. 10 No. 8.
PAVEL DOMBROVSKY
This recital was followed by possibly the best and most mature musicianship on offer today by PAVEL DOMBROVSKY. Few people realize the great Polish pedagogue and brilliant pianist Theodor Leschetizky was actually born in Lancut Palace close to where the competition is taking place. He was also a composer but few people have ever heard his piano pieces. Dombrovsky chose the Theodor Leschetizky Arabesque en forme d'Etude, Op. 45 No. 1. An interesting work considering his immense influence on the direction of modern pianism. I loved the Aleksander Tansman Sonata rustica in three movements. It has such a superbly simple theme and much rustic charm. The final movement was so festive and brilliant it took my breath away.
    Allegro agreste
    Cantilena. Largo
    Danza festiva. Molto allegro
The Witold Lutosławski Study No. 1 from Two Studies was by far the most technically secure, exciting and mature of all we heard today.
ANDRII DOROFEIEV
I felt great musical discrimination in the Ukrainian pianist's choice of works. All were fine indeed, many quite unknown. His technique was scintillating, reminding me of a young Horowitz with his flat-fingered approach to the keyboard. The three studies  from the Karol Szymanowski Twelve Studies, Op. 33 were impressively performed, capturing the elusive temperament and psyche of this Polish composer of the greatest genius.
   No. 4 Presto
No. 5 Andante espressivo
No. 6 Vivace
The composition by Teodor Leszetycki,  Etude in F minor, Op. 43 No. 2 ('La piccola') was fascinating as most connoisseurs think of Leschetizky only as a hugely influential pedagogue. the theme is most attractive, however I felt Dorofeiev over-sentimentalized it rather for my taste. The Fryderyk Chopin Etude in A minor, Op. 10 No. 12 could have been more expressive being as it was overwhelmed with virtuoso technique at the expense of emotional content. This observation could also be applied to the fascinating  and charming piece by Leopold Godowski, the Grande valse romantique (1888). I was looking for far more 'period feel' and 'salon affectation', those emotions that existed before the Great War blanketed Europe with profound spiritual disillusionment.
MICHAŁ DZIEWIOR
MICHAŁ DZIEWIOR still has some way to develop but his programme was attractive and well performed. The Karol Szymanowski Study in E flat minor, Op. 4 No. 1 is such a fine piece and eloquently interpreted as was the Grażyna Bacewicz Vivace from Two Studies for Double Notes. This pianist was the only one who attempted this magnificently constructed work. But is was the Stefan Kisielewski Danse vive that I found highly entertaining. At times I was reminded of rush hour traffic in New York and then at others by Manuel de Falla's Ritual Fire Dance. Dziewior gave this unknown work by an unknown composer, a virtuosic, infectious liveliness that won me over completely.
ROZALIA KIERC
I was so impressed by most of the recital by ROZALIA KIERC. The Grażyna Bacewicz Study No. 2 from Ten Studies was brilliantly performed. There is great joy embedded in this music and true love of the piano as both a percussion and lyrical instrument. This pianist clearly has a definite affinity for this extraordinary composer. This Karol Szymanowski Study in B flat minor, Op. 4 No. 3 for me is a divine work that contrasts a deeply poetic theme with rhapsodic passion. The Andrzej Panufnik Circle of Fifths again was a real discovery for me as it veers like a great pendulum between the introverted and the extrovert in passion.
No. 10 in B flat minor
No. 11 in E flat minor
No. 12 Postludium in A flat minor
I also loved the Ignacy Jan Paderewski Humoresques de concert, Op. 14 Book I (à l'antique). In the No. 2 Sarabande in B minor Kierc called up such intense images of the eighteenth century melancholic reflection on destiny and in contrast to this produced a fine and lively ornamentation and applied articulation to the No. 3 Caprice in G major. A satisfying recital on every musical level.
MATEUSZ KRZYŻOWSKI
I first made the pleasant musical acquaintance of MATEUSZ KRZYŻOWSKI in concert and at Masterclasses at the Nohant Festival in Berry in France this year. I was anxious to hear  what he would play in this competition. The Ignacy Jan Paderewski Légende in A major, Op. 16 No. 5 was an engaging narrative. There are two versions of this work and he chose to play the less well-known but possibly the more musically engaging and longer of the two. The familiar Fryderyk Chopin Etude in E minor, Op. 25 No. 5 was an excellent interpretation as he made something of the work and had something to say concerning it. His developing and emerging unique voice was also evident in a fine performance the formidably through-composed Grażyna Bacewicz Study No. 4 from Ten Studies. The Karol Szymanowski Study in E flat minor, Op. 4 No. 1 is a magnificent piece, here given a splendid and satisfying performance.
EVELINA PANOCHA
Evelina Panocha is clearly a very fine pianist yet I found the Fryderyk Chopin Etude in F major, Op. 25 No. 3 rather conventional in interpretation. The three studies from Karol Szymanowski Twelve Studies, Op. 33 were idiomatically and movingly performed with a deep understanding of this composer's temperament.
    No. 4 Presto
No. 5 Andante espressivo
No. 6 Vivace
I discovered great joy and love of the piano in the  Grażyna Bacewicz Study No. 2 from Ten Studies. Visually it is spectacular as a ballet for the hands danced on the keyboard. However the Ignacy Jan Paderewski Nocturne in B flat major, Op. 16 No. 4, one of the most emotionally moving pieces within the entire Paderewski piano oeuvre for me, I found lacking in the deeper poetry and sensibility  I search for.
ERYK PARCHAŃSKI
ERYK PARCHAŃSKI has striking looks but I found his playing rather uneven in quality. However two works on his programme I found stimulating and enjoyable. The Maurycy Moszkowski Etude in A flat minor, Op. 72 No. 13 is a marvelous piece requiring great virtuosity and what is used to be termed in the nineteenth century fingerfertigkeit (finger dexterity). There is an impressive solo left hand section which is rather arresting visually speaking. I also responded to the attractive Artur Malawski two Miniatures for piano. Fine performances of all of these by the pianist.
PIOTR RYSZARD PAWLAK
One of the great highlights of the competition so far was the recital by PIOTR RYSZARD PAWLAK. I first heard him at the XI Darmstadt International Chopin Competition in 2017 where he was awarded the First Prize and Improvisation Prize. As anticipated it was a fine performance, one of the best today of my three outstanding pianists.
His programme was taxing physically, mentally and musically. A great account, certainly the best, I have heard of this much played magnificent work in the competition, the Witold Lutosławski Study No. 1 from Two Studies. Then the completely unknown (to me at least) Maurycy Moszkowski Etude in A flat minor, Op. 72 No. 13. So much of this composer is unknown and living in the shadow of the great encore so often performed by Horowitz who seemed to determine encore taste so often in musical life! Then an excellent Fryderyk Chopin Etude in A minor, Op. 10 No. 2.
Finally the quite incredible Henryk Mikołaj Górecki Piano Sonata No. 1, Op. 6. The gestation of this work was long and rather painful for the composer. He was finally satisfied in 1990 when it was published.  The Sonata is composed in three movements, the two outer ones mostly fast, powerful, overwhelmingly dynamic and percussive. They frame an extremely short, lyrical central slow movement that is minimalist in content and deeply moving . The music has been described as 'grindingly aggressive' with a short purity of lyricism embedded in a furious climax. I cannot say I liked this work but it was quite breathtakingly effective and overwhelming in impact. One stands in awe of it and one can only praise the ambition and talent of this young pianist to present it to us in a competition ambiance.
ADAM PIÓRKOWSKI
Here I listened with the greatest pleasure to the immaculate articulation of this fine pianist. Both Paderewski pieces are alluring in different ways. The Chant d'amour, Op. 10 No. 2 is winsomely romantic and the Caprice in G major, Op. 14 No. 3 is a test of finesses and articulation. The 'atmosphere' surrounding the Maurycy Moszkowski Etude in D flat major, Op. 72 No. 12 would benefit so much from more of a feeling for the sensibility of the period. The Fryderyk Chopin Etude in A minor, Op. 25 No. 11 was ra5her indifferently executed unfortunately unlike the extraordinary and rather amazing Witold Lutosławski Study No. 2 from Two Studies which had élan and panache, albeit of an ultra-modern variety.
As the competition progresses I have come to a general conclusion concerning the participants that they perform contemporary and modern percussive and rhythmical works with much more conviction that early twentieth century or prewar pieces that require the expression of sensibility and emotional feeling. Imagining and projecting yourself into earlier historical and cultural contexts provides great challenges for young artists in 2019. The triumph of the physical and material today.
Official Website of the Competition: http://www.konkursmuzykipolskiej.pl/en/
The Stanisław Moniuszko International Competition of Polish Music in Rzeszów (from 20 to 27 September 2019)
The Stanisław Moniuszko International Competition of Polish Music in Rzeszów is a new cultural initiative aimed at promoting Polish music worldwide and familiarising the listeners with the legacy of Stanisław Moniuszko himself and with that of many other exceptional nineteenth and twentieth century Polish composers.
The first edition of the Competition will be divided into two categories: one for pianists and the other for chamber ensembles. The musicians will present works from the repertoires of fifty Polish composers and mostly written in the nineteenth and twentieth centuries.
The Competition auditions will be held at the Artur Malawski Podkarpacka Philharmonic Hall in Rzeszów between 21 and 26 September 2019, and the Prize Winners Concert on 27 September. The prize winners of the Competition will perform alongside the Orchestra of the Artur Malawski Podkarpacka Philharmonic in Rzeszów directed by Jerzy Salwarowski and Tomasz Chmiel. The Prize Winners Concert will be repeated on 29 September at the National Philharmonic Hall in Warsaw.
The main prizes of the Competition will separately be awarded for both categories: First Prize – 20,000 euros, Second Prize – 10,000 euros, Third Prize – 5,000 euros and three equivalent honourable mentions of 1500 euros each. There will also be a number of special additional prizes.
The Competition is organised by the Institute of Music and Dance and co-organised by the Artur Malawski Podkarpacka Philharmonic in Rzeszów.
The first edition of the Competition has received the National Patronage of the President of the Republic of Poland Andrzej Duda as part of the official celebrations marking the 100th anniversary of Polish independence.
The Competition is funded by the Ministry of Culture and National Heritage and financially supported by the Local Government of Podkarpackie Voivodeship.
The partners of the Competition are: the Fabryka Cukierków (Candy Factory) Pszczółka, PGNiG S.A., the Podkarpacka Fundacja Rozwoju Kultury (Podkarpacka Foundation for the Development of Culture), the Polskie Wydawnictwo Muzyczne (Polish Music Publishing House), Ruch Muzyczny, STOART, the Polish Society of Authors and Composers ZAIKS, the University of Rzeszów, Yamaha, the Karol Szymanowski Music School Complex No 1 in Rzeszów and the Wojciech Kilar Music School Complex No 2 in Rzeszów.
The media patrons of the Competition are: Polish Radio 2, TVP Kultura, Rzeczpospolita
and Magazyn Presto.
The Competition belongs to the Alink-Argerich Foundation.
List of participants of the competition
(with competition numbers)
Competition pianists
Szymon Atys (Poland)
Tymoteusz Bies (Poland)
Pavel Dombrovsky (Russia)
Andrii Dorofeiev (Ukraine)
Michał Dziewior (Poland)
Ruslan Kazakov (Russia)
Rozalia Kierc (Poland)
Mateusz Krzyżowski (Poland)
Ewelina Panocha (Poland)
Eryk Parchański (Poland)
Piotr Ryszard Pawlak (Poland)
Adam Piórkowski (Poland)
Yau Kit Pun (Keith) (Hong Kong)
Ivan Shemchuk (Ukraine)
Andrey Stukalov (Russia)
Anna Szałucka (Poland)
Daniel Ziomko (Poland)
Chamber ensembles
Andriuti-Shemchuk Piano Duo (Romania/Ukraine)
Apeiron Trio (Poland)
Arteria String Quartet (Poland)
Ãtma Quartet (Poland)
Cracow Golden Quintet (Poland)
Cuore Piano Trio (Poland)
Duo Katarzyna Bąkowska, Katarzyna Nowaczewska-Manthey (Poland)
Duo AraE (Poland)
Effimero Duo (Poland/Israel)
Eufonico Duo (Poland)
Gidaszewska/Łaguniak Duo (Poland)
Jarosz & Putyra Duo (Poland)
Roksana Kwaśnikowska / Łukasz Chrzęszczyk (Poland)
Moniuszko String Quartet (Poland)
MOS-duo (Russia)
Novi Piano Duo (Poland)
Paulina Bujok & Joanna Sochacka Duo (Poland)
Polish Art Duo (Poland)
Quartetto Nero (Poland)
Rodak&Dynak Duo (Poland)
Septem Quintet (Poland)
Trio Lontano (Poland)
Zakrzewska/Mglej (Poland)
Jury of the competition
Category I
Jarosław Drzewiecki (Poland) – Chairman
Matti Asikainen (Finland)
Philippe Giusiano (France)
Andrzej Jasiński (Poland)
Kevin Kenner (United States)
Vera Nosina (Russia)
Koji Shimoda (Japan)
Category II
Andrzej Tatarski (Poland) – Chairman
Gary Guthman (United States)
Józef Kolinek (Poland)
Krzysztof Meyer (Poland)
Irena Poniatowska (Poland)
Lew Zakopets (Ukraine)
Competition Schedule
http://www.konkursmuzykipolskiej.pl/images/HK_plen.pdf